and before you make your New Year Resolutions…make this dessert!!  I haven't made this in a couple years (not really sure why, just haven't) but it is yum, yum, yummy!!  Well, I guess if you like pumpkin it is 🙂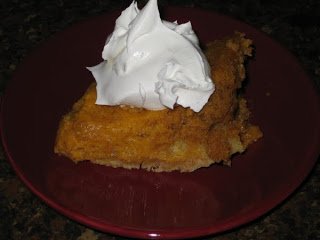 Now, I'll admit, it's not much to look at.  But trust me…it's delicious!
Cake Ingredients:
Mix these ingredients together.  And be forewarned it will take some work as it's gonna be quite crumbly!  Then pat this into the bottom of a greased 9″ x 13″ pan.
Filling Ingredients:
Start by blending the cream cheese and pumpkin until smooth and creamy.  Add eggs, vanilla and butter until blended.  Then mix in the powdered sugar, cinnamon and nutmeg.  Pour filling on top of cake mix.  Then bake for 40-50 minutes at 350 degrees.  Do NOT overbake this.  It will have a gooey center–you want this!
Serve warm with fresh whipped cream or Cool Whip works just fine too 😉
Let me know what you think okay?