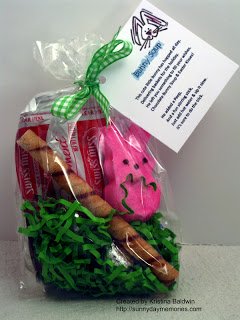 I made up these cute little "Bunny Soup" treats for our preschool.  Aren't they fun??  It's simply a Bunny Peep, a few Hershey Kisses, a chocolate wafer stirring stick and a packet of hot cocoa.  
This cute little bunny has hopped all day.  Delivering baskets for the holiday.  He left you something to fill your wishes. Chocolate Bunny Soup & Easter Kisses!
He added a Peep, and a fun stirring stick.  Just add hot water & sip it slow.  It's sure to do the trick.
There's still a few more days until Easter…why not make your own Bunny Soup?
I have some more DIY Easter project ideas for you!
Easy Kids Easter Basket
Easter-themed Hershey Kiss Box
Happy Easter Card Ideas
A Cute Flower That Also Holds Treats
My Peep Bunny Loves His New Chocolate Car
6 Projects From an Easter Bunny Workshop
Easter Pop Top Can Video Tutorial