This weekend was all about getting ready for Easter at our house.  Yesterday, the kids and I dyed Easter Eggs.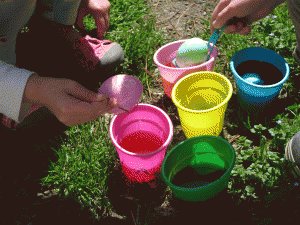 But the real fun was Saturday.  On Saturday, the kids and I went to a last minute Easter Party hosted by my friend Kjirsten.  Now, even though Kjirsten decided to host this last minute, she is always one heck of a party host!!  Check out some of these cute DIY Easter Party Ideas straight from her impromptu party…
The classic Easter Basket from a strawberry basket (these are getting more and more difficult to find it seems–we used these at our preschool but they make such cute Easter baskets!)
These look darling when you weave the ribbon through the slots, but your kiddos have to have a lot of patience for this!
Then there was the fun activity of creating Bunny Cars for a not-so-healthy (but tasty!) snack.  These were so stinkin' cute I had to make one myself to bring home and share with my husband!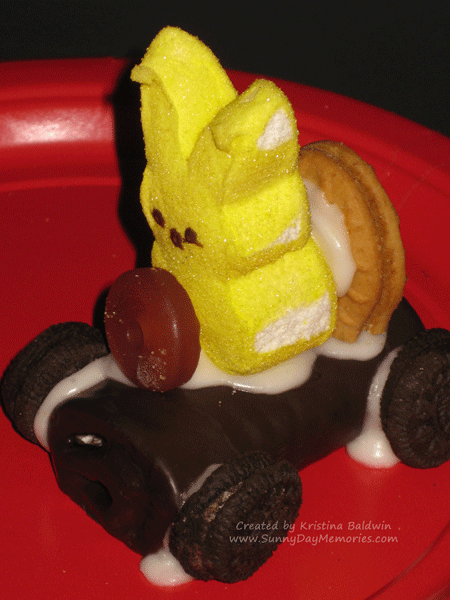 Simply start with a Ho Ho or Swiss Cake Roll, add some "glue" (aka frosting) to 4  mini Oreos and attach as wheels.  Take half of a Nutter Butter cookie (gotta watch out for those peanut allergies though!) for the car's seat and glue it to the back of the Ho Ho.  Affix a Bunny Peep to the "seat" and finally use either a traditional Lifesaver or a Gummi one for the car's steering wheel.  Cute, right?!
Then we have the fun party favor of dipped marshmallows!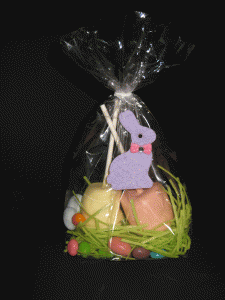 I have some more DIY Easter project ideas for you!
Easy Kids Easter Basket
Easter-themed Hershey Kiss Box
Happy Easter Card Ideas
A Cute Flower That Also Holds Treats
My Peep Bunny Loves His New Chocolate Car
6 Projects From an Easter Bunny Workshop
Easter Pop Top Can Video Tutorial 
And you absolutely can't miss:
Peep Bunny Soup!