Here's a fun (and easy!) treat holder you can craft with CTMH's Cricut Artiste cartridge.  It's a Strawberry Treat Holder, complete with a stem!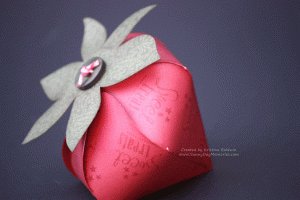 This was the Make-n-Take project we made this weekend at my Customer Appreciation Celebration.  Everyone LOVED it's simplicity and it's cute factor…and why wouldn't you!?
One of the awesome features of this new Cricut cartridge is it's intuitive nature.  I simply said I wanted to cut out the strawberry at 4″ and then when I went to cut the stem,  I didn't need to figure out what size I had to cut it in order for the size to coordinate with the size of the strawberry!  This feature comes in super handy when doing a card and envelope!
I used our *NEW* Ruby ink and Ruby cardstock as well as the *NEW* Pear & Partridge Paper Collection (LOVE this paper!) for the stem.
Want to see all 700 Cricut Artiste images?  I thought so!

To order your own Cricut Artiste Collection, click HERE.