I coordinated class gifts for the teachers in both my son and daughter's classes again this year.  Since I'm always short on time, I tried to keep the ideas similar enough that I wouldn't be stressed out more than I needed to be at the end of the school year.
First, I started by making each of them a Pencil Vase.  If you have a glue gun, this is a relatively simple project to do–get yourself a cylinder vase, a bunch of pencils (or colored pencils–I did colored pencils last year) and some ribbon and you're good to go.  Simply glue each pencil to the vase, going one-by-one until you make it all around the vase.  I even use the glue gun to secure the ribbon so that it doesn't slide around.  Find some pretty flowers and voila!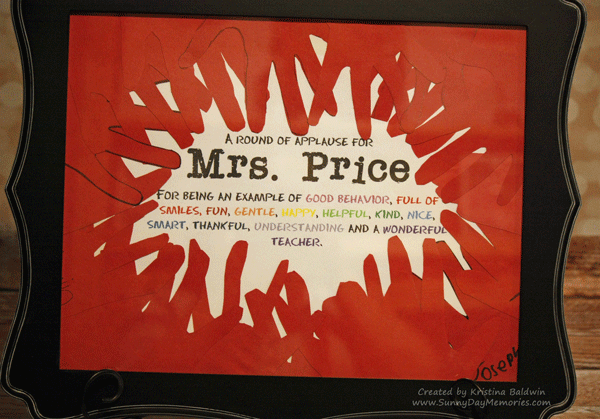 For my daughter's teacher, I provided each student a piece of red paper (one of her favorite colors) and asked them to trace their hand and cut it out. Additionally, they were asked to give an adjective to describe the teacher.  I pieced the hand prints together surrounding all the sweet adjectives the kids came up with.  So precious!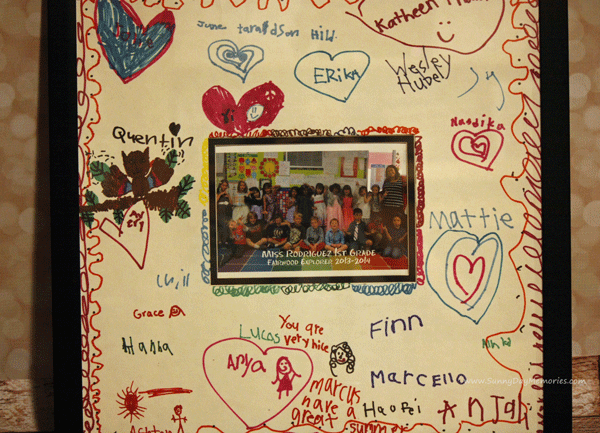 For my son's teacher, I took a picture of the class in the last month of school (maybe 2 weeks before school got out?!?) and had the kids sign the matting as well as add a little doodle if they chose to.  The photo was so special because 1.) she didn't see it after I took it and 2.) it truly represented the kids personalities…it was very freestyle…not a "cheese" pose.  And even though my daughter wasn't in her class, she wanted to draw an owl on the mat since the teacher LOVES owls.  It was perfect.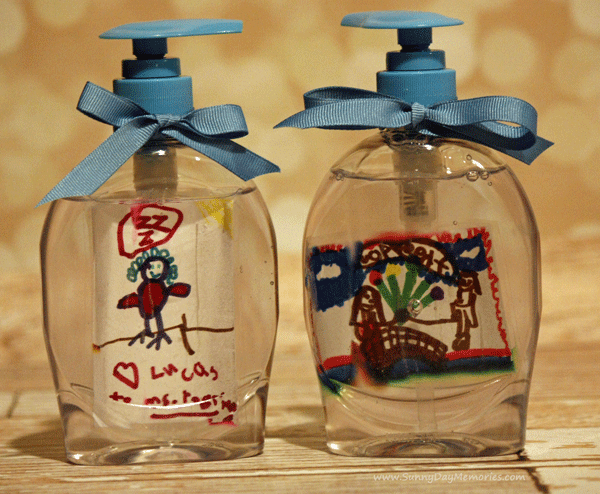 We try to do something really personable for our gifts and this was a hit last year so we did it again.  Last year, I put a class photo in the soap, but this year the kids chose to draw a picture for their teacher.  I like this Teacher Artwork Soap idea because it is useful and a bit sentimental, too.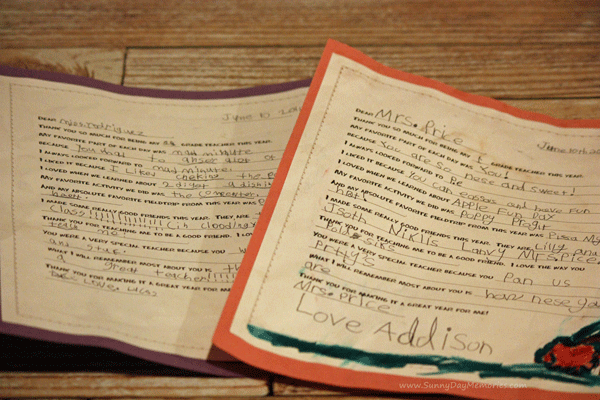 I also typed up a Fill-in-the-blank Teacher Appreciation Letter.  It was awesome seeing what my kids wrote to their teachers.  I gave them the option to doodle or color around the margins of the letters–to personalize it a bit more.  Then they chose a color paper to mat the letter on (they each chose their teacher's favorite color–so sweet!)
Soon it will be time to think up ideas again.  Time goes by way too fast! It wasn't that long ago that we working on our Kindergarten Teacher Gifts (the Crayon Monograms were a hit!)