CTMH's Stamp of the Month is so cute for August!  I love both owls and the fun add-ons to the stamp set.  For this card I used papers from the My Crush Bluebird Book.  These books are an AWESOME value for what you get in them–60 different double-sided papers!  There's no reason you have to keep them as a book–tear out the pages and use them for cards, scrapbook layouts or even papercraft projects!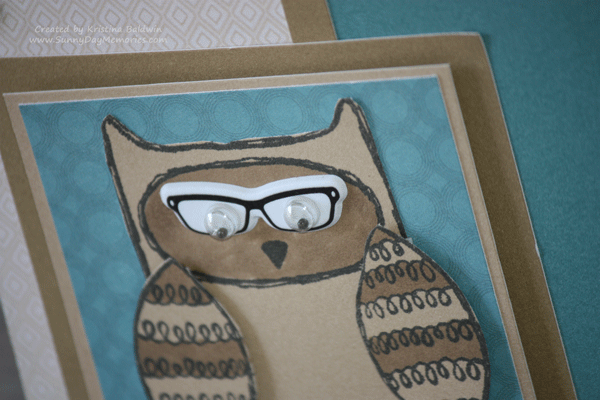 I used the *NEW* Chalk It Up Assortment to give the owl some glasses.  Once the glasses were on, I couldn't resist adding in some googly eyes.  So cute!!  Here are all the supplies I used to create the card:
What a Hoot (S1408)
My Crush Bluebird Book (Z1856)
Twilight Cardstock (retired)
Cashmere Cardstock (X5932)
Champagne Cardstock (X5931)
Archival Black Stamp Pad (44751)
ShinHan Clay Marker (Z2451)
Chalk It Up Assortment (Z3009)
Bling Gems Gold Assortment (Z2023)
Thin 3-D Foam Tape (Z2060)
Wiggly Eyes
To get your own What a Hoot Stamp Set, click HERE.