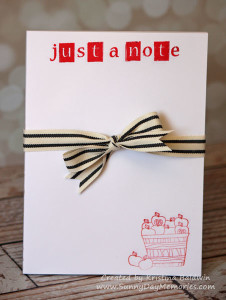 Today was the first day of school for my kids.  I wanted to create a little something for the teachers so I went with something useful.  I stamped up little notebooks for them to use throughout the year.  I did get a little grief from a friend who works at a school about my use of apples. Apparently, teachers get tired of all the apple-themed gifts.  Who knew?  I guess I can understand as I think more about it though.  Hopefully the teachers weren't like, "oh no, more apples!" =)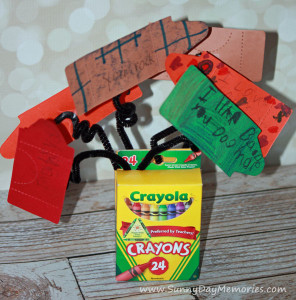 This darling Crayon Bouquet is something I wanted to share since last spring–and the timing seems perfect with the start of school!  The teachers at our school made these up and had them at one of our final board meetings last spring.  They had students write sentiments and draw doodles on the die cut crayons and put it all together using empty crayon boxes and pipe cleaners.  Clever, right?  And so easy to replicate and do it yourself!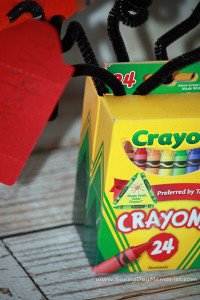 This could be a really cute project to do for your teacher at the start of the year–using full crayon boxes!  Not only would it give it better stability, but it'd also be useful for the teacher, too.  Your child could write what they are excited to learn about/do during the upcoming school year.  Very sweet idea, really.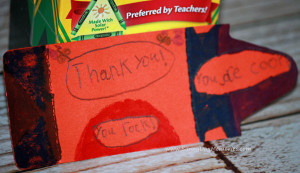 It could also be used in the same vein as the teachers did with the board members.  It could be used during Teacher Appreciation Week with thank you sentiments from the students.  Cute, meaningful and a great time to replenish supplies that may need it!
The nice thing is that no matter how or when you use the idea, it's easy enough to do and doesn't take a lot of supplies or money but is a very thoughtful, sweet gesture–the best kind, right?
You can see my other back-to-school projects here. Have other cute and easy back to school project ideas?  Leave a comment and let us know!