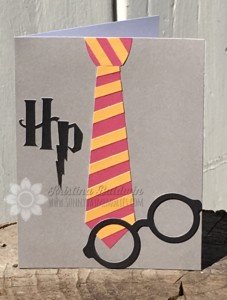 Are you part of the Harry Potter frenzy?  Did you pre-order your book?  Or maybe you are heading to a launch party at midnight tonight?
We pre-ordered ours and should have it between midnight and 2 am thanks to Amazon Prime Now!  My son, who is completely an "early to bed, early to rise" guy believes he will be able to stay awake until the book arrives!
In honor of the festivities, I whipped up this fun card using CTMH's exclusive Cricut Artiste (retiring!) and Artistry Collections.  The hardest (not really hard) part was paper piecing the tie together.  Otherwise, with all the Cricut cuts it went together in a snap!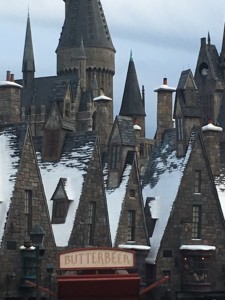 My kids LOVE Harry Potter.  My son really got into last summer–reading the whole series in just a week!  About a month ago we were vacationing in Florida and decided to go to Universal Studios for the sole reason of visiting the Wizarding World of Harry Potter.  And boy was it crowded…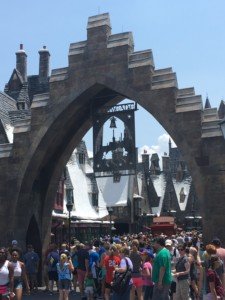 Like really crowded!  Especially when you compared this section of Universal Studios with the other areas–it was definitely on everyone's "must-do" list!  And the interesting thing was that later in the early evening, the crowd thinned out quite a bit.  I completely would have thought the opposite would have been true.  I have to say that I thought the train ride between the 2 worlds was quite cute–very well done.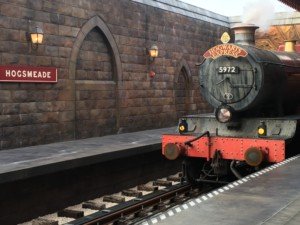 It's a little disappointing that the new one in California (so much closer to us to visit) doesn't have this feature.  But like all things, that could change in the future!
So for all you Harry Potter fans out there, I hope you enjoy his birthday reading the latest book!