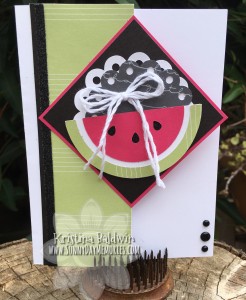 Today is National Watermelon Day.  Did you know that?  I sure didn't until I saw it listed in my planner for today.
It seemed like the perfect opportunity to create a card!  Plus, when I checked if I had any watermelon images on the Cricut cartridges I owned, this cute watermelon slice popped up in my *NEW* Cricut You Are Here collection. Serendipity, right?
I grabbed my *NEW* Whimsy Fundamentals and Basics Fundamentals along with some Raspberry Cardstock and got to work.  I then added some Black Shimmer Trim, Black & White Dots and some White Twine to finish off the card. All-in-all, it came together pretty quick.
If you're a fan of watermelon, be sure to celebrate today.  Jamba Juice is even offering a special in honor of the day.  Time to go enjoy some watermelon!