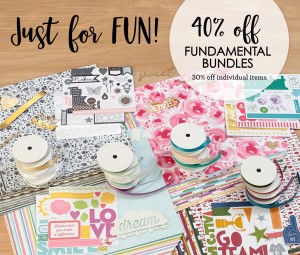 Close To My Heart's November Special is Just for Fun!  All of Close To My Heart's Fundamentals Collections are on sale.  You can save 30% on individual items OR 40% when you select an entire bundle.
These items truly are fundamental to your scrapbooking, cardmaking and papercrafting.  They include beautiful patterned paper general enough for everyday use.  Gorgeous ribbon collections that coordinate so well with the papers.  And quick and easy embellishments including glitter die cuts, chipboard elements and stickers.  You simply can't go wrong with these items.  And the current pricing is spectacular.  Now is the time to stock up so you're ready no matter what project you have in the works.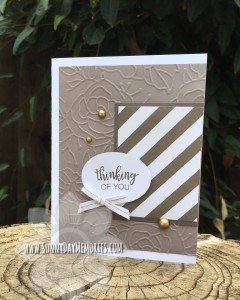 I especially love the Basics Collection.  The *NEW* colors that Close To My Heart released in this color palette are simply stunning.  They are completely on trend as well as warm and rich.  Plus, you can't go wrong now that every piece of our cardstock has a second shade on the backside–giving you even more versatility with the beautiful Paper Fundamentals.  Just look at how amazing this card looks.  I received this card from a swap.  Unfortunately, it didn't have the creators info–I wish it did as I truly love this card design!  She used the lighter shade of Espresso for the embossed background (embossed with our *NEW* Rose Embossing Folder) to offset the Espresso Striped Paper Fundamental design.
You can see all the options of the Just for Fun Special on my ONLINE CTMH STORE.