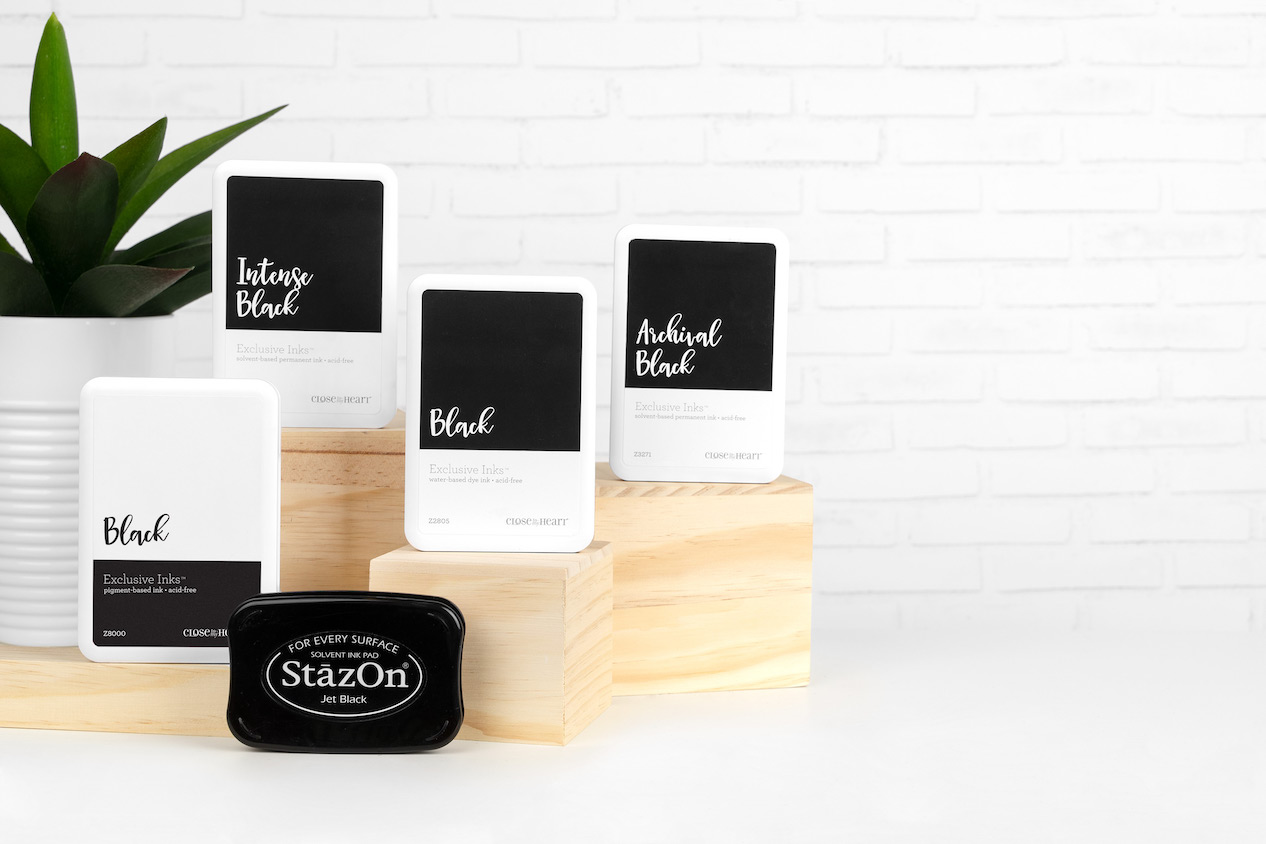 As a stamper, many times it can be confusing as to which particular black ink pad we should be using for which project.   Yesterday, on Close To My Heart's Blog, they did a wonderful post comparing the different Black Ink Pads and when it's best to use which one of them.  It was a great comparison and one I think all of us could benefit from.  Plus, there are great project examples for each!
With so many different black ink pads at our disposal, deciding which is the best option for a project can get a little confusing. Let's shed some light into this black situation by examining each one of these inks individually and identify what their strengths and purposes are so you'll never have to second-guess yourself again.

All of the black Exclusive Inks™ stamp and pigment pads come in a sleek patented case. The innovative case features an in-lid stamp pad, keeping the ink at the surface and ready to use, as well as a convenient magnetic closure. The raised pads are approximately 3¾" x 2½", making them larger than average and more versatile….

Although they are very similar in appearance, and are all technically black, each ink is formulated from scratch to produce unique stamping results. We discussed these inks and how to use them with our very talented Art Studio and came up with the following:

1.  BLACK EXCLUSIVE INKS™ STAMP PAD

The Black Exclusive Inks™ Stamp Pad is a water-based dye ink. Our artists like using it for stamping sentiments and other images that will not be colored over with markers or watercolor. It is ideal for cardmaking, tags, and other everyday uses.

2.  ARCHIVAL BLACK EXCLUSIVE INKS™ STAMP PAD

The Archival Black Exclusive Inks™ Stamp Pad has the deepest black ink out of all our black inks. It is a solvent-based permanent ink. Waterproof, lightfast, fade-proof, and archival. We recommend using this ink for scrapbook pages and for stamping on vellum. Archival Black is ideal for stamping images and sentiments with staying power.

3.  INTENSE BLACK EXCLUSIVE INKS™ STAMP PAD

The Intense Black Exclusive Inks™ Stamp Pad is intense not because of its color but because it is a non-smearing, fast-drying, solvent-based permanent ink. Like its Archival Black counterpart, the Intense Black ink is also waterproof and archival. If you want to add color with watercolor or alcohol markers, however, Intense Black is the way to go.

4.  BLACK EXCLUSIVE INKS™ PIGMENT PAD

Next, there's the Black Exclusive Inks™ Pigment Pad. The major difference between this ink and the others is that it is a pigment-based ink. Pigment inks dry permanently on porous surfaces after heat-setting. It takes a little more work to use a pigment ink, but the results are definitely worth it! We recommend adding clear embossing powder to your stamped images, and heat setting them with a Heat Tool, to create beautiful glossy raised images and sentiments.

Last, and certainly not least, is the Black StazOn™ Ink Pad. This pad offers a fast-drying solvent-based ink designed specifically for use on plastic, metal, glass, ceramic, laminated paper, coated paper, leather, and other non-porous surfaces. Even though this ink is technically "fast-drying," it can be wiped off a truly non-porous surface within minutes after it is applied, using a Stamp Shammy and StazOn™ Cleaner. This is great to keep in mind because the majority of non-porous surfaces tend to be slippery and can be difficult to stamp with accuracy. Once the ink completely sets, however, it will yield permanent results. (So, make sure to keep that Stamp Shammy nearby! 😉 )

We want you to be able to take all of this information with you wherever your stamping takes you, so we've created the following chart, including photos of our artwork examples, for you to download and print.

We even left enough space in an empty second column for you to stamp a solid heart and outline from the My Acrylix® Erin's Hand Stamp Set using the individual inks to have real visual examples. (Clear Super Fine Embossing Powder was added to our Black pigment ink and heat set in order to create the glossy raised images shown.)

With this quick and simple breakdown, we hope you will make all of your future black ink decisions with clarity and confidence!