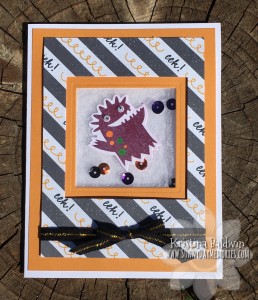 Today is Tuesday…which means it's another new week of 50% off deals with CTMH's Warehouse Sale!  The items this week are all perfect Halloween crafting companions.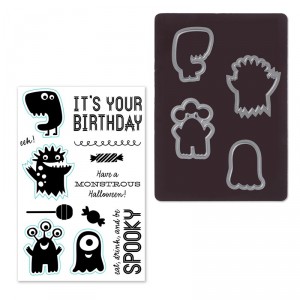 There's this super adorable Monstrous Halloween Stamp Set and coordinating die set for only $13.48!  Crazy!  I love this set and have used it so much.  And since it was one of the 50% off items this week, I whipped up this card using it along with our *NEW* Basics Fundamentals.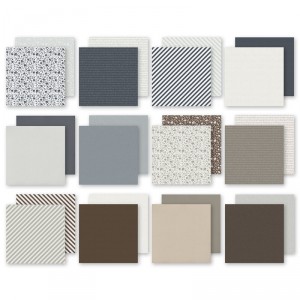 It's always fun to change up your patterned paper simply by stamping on it.  And that is exactly what I did here with the striped paper.  I used Goldrush ink to stamp the swirly border and Black ink to stamp "eek."  I really like how it turned out.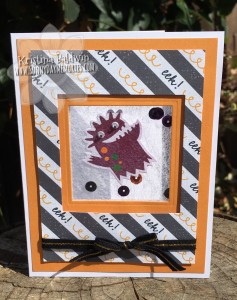 For the "window"/shaker part of the card, I used our 3″ x 3″ Flip Flaps.  These work amazingly well for this purpose and are generally overlooked as they are most popular for using with scrapbooking and adding extra photos to layouts.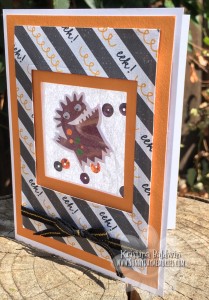 The other fun tip I want to share with you is what I put inside the Flip Flap along with the monster and the sequins.  I lined the inside of the Flip Flap with a used dryer sheet to give it more texture–sort of a web look if you will.  It's pretty subtle, but pretty fun, too!  You should never underestimate the things you have lying around your house!
The final touch that is a true "must" with this Monstrous Halloween Stamp Set is to add wiggly eyes.  It adds a whole new dimension to these monsters.  In a way, it brings them to life!
So remember, these Warehouse Deals are while supplies last.  And truthfully, these deals are so great, there's the perfect timing with Halloween right around the corner AND this set is just too stinkin' cute.  They'll be gone before the week is over for sure.  To get your 50% off Halloween deals, visit my ONLINE CTMH STORE right away!