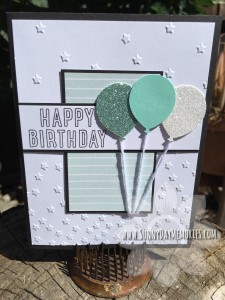 Today's card is a spectacular one!  It's one I received back from Jen L. in the card swap I participated in.  It has a nice simple design but with lots of great depth and texture added to it. And what could be better than a birthday card!?!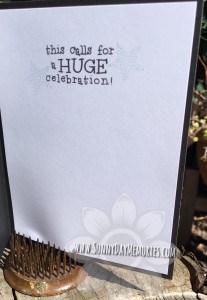 Perhaps a birthday card with a super fun sentiment stamped inside!  This card is actually created from a larger cardmaking kit called Let's Party Cardmaking Kit; which, truth be told, should be on everyone's wishlist!  =)  It's a pretty awesome kit.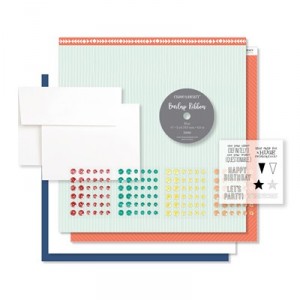 Here's a complete listing of the products used to create this card:
Let's Party Cardmaking Kit (G1132)
Sea Glass Stamp Pad (Z2813) don't forget this is the Color of the Year so after July 31st, it's no longer available!
Black Stamp Pad (Z2805)
Black Cardstock (1386)
Sea Glass Cardstock (Z2507)
White Glitter Paper (Z3247)
Sea Glass Glitter Paper (Z3240)
White Twine (Z3126)
Confetti Stars Embossing Folder (Z3119)
3-D Foam Tape (Z1151)
If you'd like to purchase any of the items listed or any other CTMH products, please visit MY ONLINE CTMH STORE.