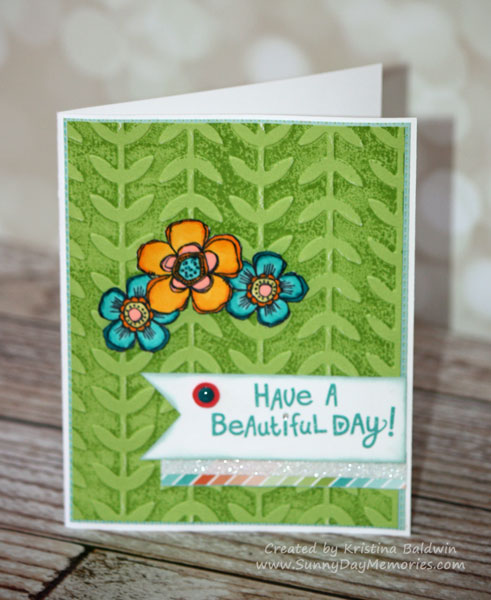 We are all short on time, right?  And for many of us with school out for the summer, we have even less time!  Our schedules become tighter than usual.  So how can we still create fabulous things with less time?  Here's my great time-saving tip…
Create duplicates!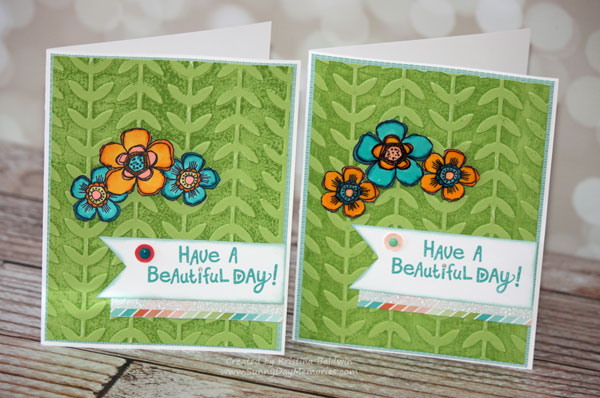 If you are already designing a card for someone, why not create an extra one? They don't need to be exact duplicates.  You can tweak things here and there.  The idea is if you are already creating a design and cutting papers, why not take an extra couple of minutes to cut extra supplies? This way, you'll have an extra card on hand when you need it!
And why stop at only creating one extra?  Why not create 3 and have 2 extras on hand?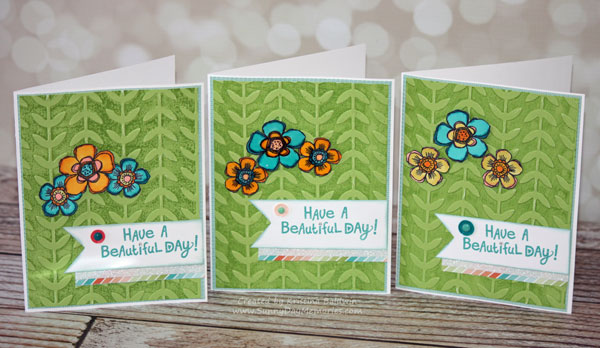 This particular card design was one of the cards my Stamp Club created this month.  As I was cutting all the papers for everyone, I realized if I took a few extra minutes and cut some extra supplies, I could have some extra cards on hand–which would save me time!  Pretty simple idea, right?
And this idea of duplicates doesn't need to stop with creating cards.  Maybe you do a lot of cuts on your Cricut.  Perhaps there are particular shapes or sentiments you cut out frequently.  Cut extras and set them aside for the next time you need them (just be sure to remember where you put them!)
Or why not take a card design you love and duplicate it in a scrapbook layout you need to work on OR vice versa!  There's no reason why you need to reinvent the wheel each time you sit down to create something.
Supplies used for the card:
Happy Birds Stamp Set (C1600)
Lagoon Stamp Pad (Z2195)
Glacier Stamp Pad (Z2641)
Pear Re-inker (Z2297)
Assorted Shin Han Alcohol Markers (Z2445 – Z2469)
Blossom Paper Pack (X7196B)
Pear Cardstock (X5764)
White Cards & Envelopes (X254)
White Shimmer Trim (Z3024)
Oceanside Sequins (Z3041)
Coral Reef Sequins (Z3042)
Aqua Dots (Z1853)
Vine Embossing Folder (Z3019)
Non-stick Micro-tip Scissors (Z1836)
Sponge Daubers (Z726)
Glue Dots (1772)
Thin 3-D Foam Tape (Z2060)
For planning purposes, the Happy Birds Stamp Set, Blossom Paper Pack, Oceanside and Coral Reef Sequins are all slated to retire.  If you'd like to purchase these CTMH items, please visit my ONLINE STORE and purchase them before they are gone.