Hi! I'm Kristina Baldwin, and this is my blog. I love crafting (just like you), so I'm always looking for creative paper craft ideas to try out. When I try out a new card making technique or start using a new stamp set, I take pictures to share with you on this site. I've been a Close To My Heart Consultant since 2003, and my SunnyDay Memories blog now has over 800 posts (!) on everything from party invitation ideas to teacher appreciation gifts to Valentine's Day cards. My hope is that you'll find something here that inspires you.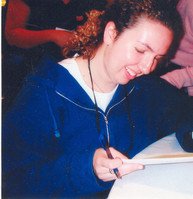 My story began like so many others…I was introduced to Close To My Heart through a friend whose mom was a CTMH Consultant.  We made some GORGEOUS cards one afternoon and I was hooked.  I was amazed at how easy (and addicting) it  was to create handmade items.  I loved how the colors of paper, markers and ink pads all coordinated.  I appreciated the hours this would save me at the scrapbook store…no longer needing to find papers that matched.  Soon, I found myself wanting everything in the catalog!  And still do! 🙂
It became obvious to me that I needed to get help with this addiction…so I became a Consultant so I could get my supplies at a discount.  From there I fell in love with all the new friendships I was able to develop from this adventure.  It is so wonderful to meet others with this same love of creating!
And now years later even though my life has changed (from working as a full-time paralegal at a large law firm to a SAHM of B/G twins) I still make time for my CTMH addiction!
So welcome to SunnyDay Memories. Take a look, I hope there's something that inspires you in your next great crafting project.
And remember to make it from your HEART!