I know, I know school is just beginning so why the heck am I doing a post about graduation now?  Well, truth be told, the summer just flew by before I could even stop and think about sharing all the great ideas we did at our Kindergarten Graduation Party last spring.  But they were so darn cute that I couldn't just let them fall to the wayside.
First things first, due to school rules we couldn't do traditional graduation with caps and such.  So we needed to be creative in our approach to the celebration. We came up with the idea to do a star theme.
Kindergarten Banners And CLassroom Decorations
We started with how to decorate the classrooms.  Each student created a large star by themselves to hang from the ceiling. Together, we made a classroom banner for the front of the room. The kids added their handprints to the Kindergarten banner.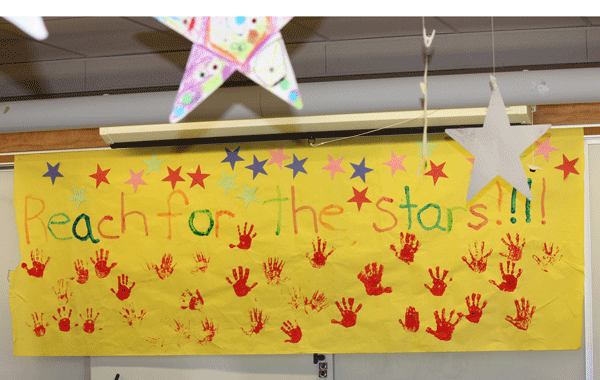 The other Kinder classroom's take on the idea…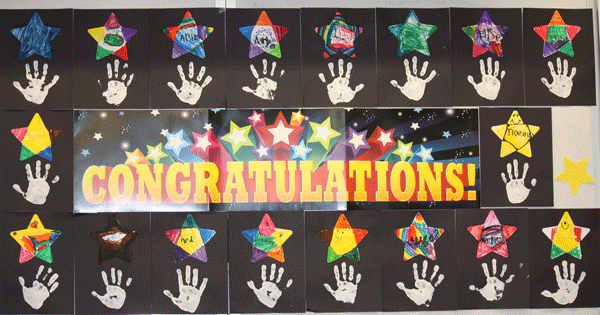 My son's class didn't have the large stars hanging from the ceiling because we came up with a different idea.  The teacher had a bunch of paper lanterns she had on hand.  We came up with the idea of making them into adorable hot air balloons to hang from the ceiling!  The kids each painted their paper lantern (carefully!) as well as decorated their "baskets" (biodegradable pots!) with stars I punched out for them.  Then I cut up some clouds and attached everything together with a little banner attached to each basket that said "up, up and away!"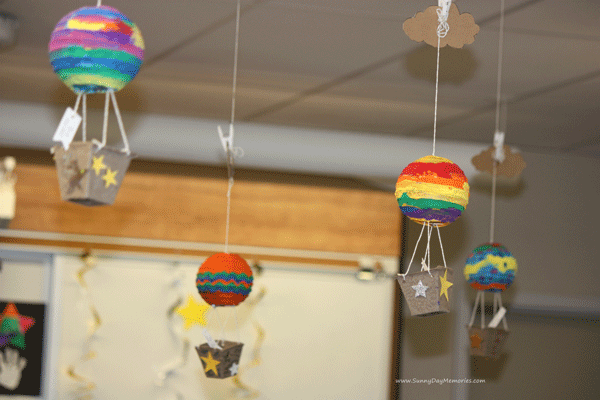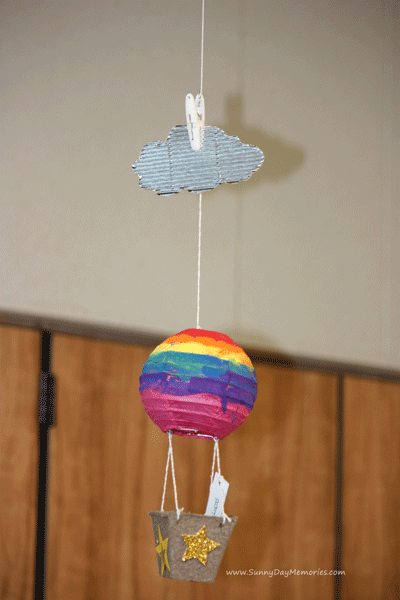 Kindergarten Crowns For Our Rising Stars
After we had the decorations taken care of, it was time to think about some proper graduation hats since graduation caps were out of the question.  Again, the 2 classes started with the same basic concept–a star crown–but their end results differed.  For my daughter's class they took various colors of stars and had the kids write favorite things from the past year on each star–cute, right?!?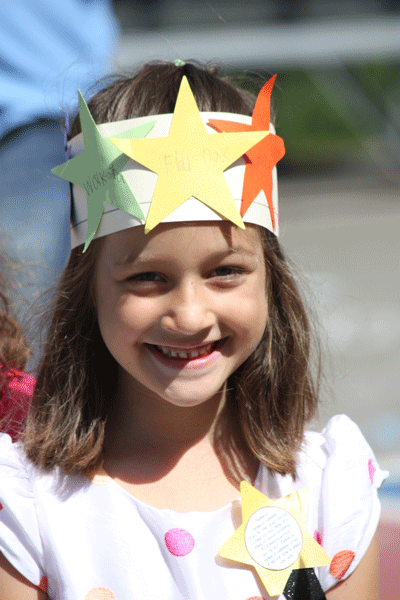 Since we took time creating the hot air balloons in my son's class, I made up their crowns by stamping and writing their names in Glitz Glitter Gel.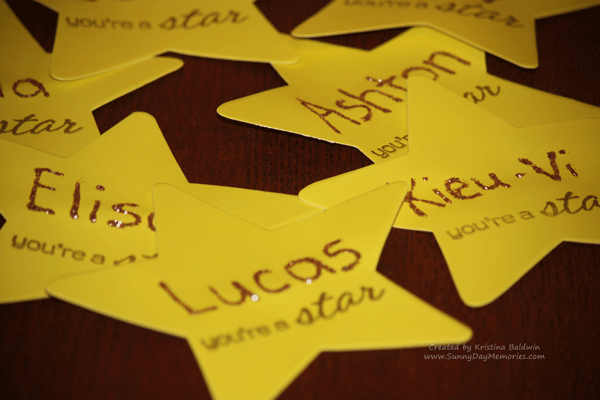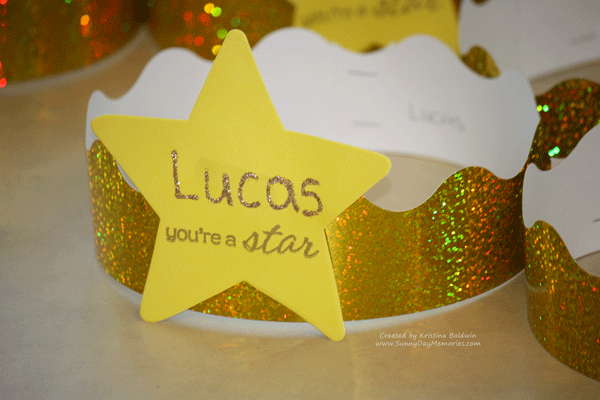 Graduation Bubble Favors
Next was the question of how to weigh down the balloons for the kids (of course the balloons had stars on them!!)  I had previously seen those mini bubble bottles for weddings at the dollar store so the teacher went to buy some.  She bent a little on the "no graduation" theme by getting some graduation specific bubbles.  I, of course, had to decorate the bottles!
She had some awesome constellation wrapping paper…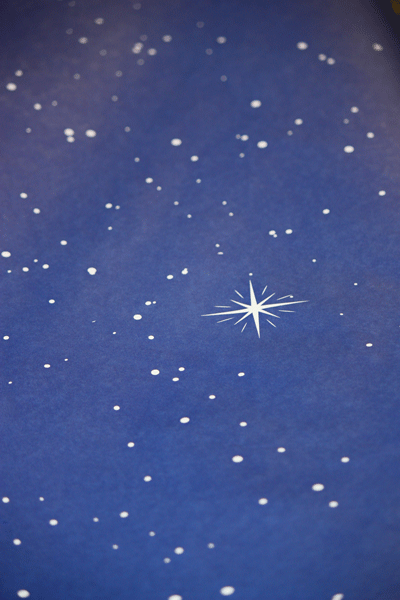 which I put to good use!  I cut it into strips and then stamped them…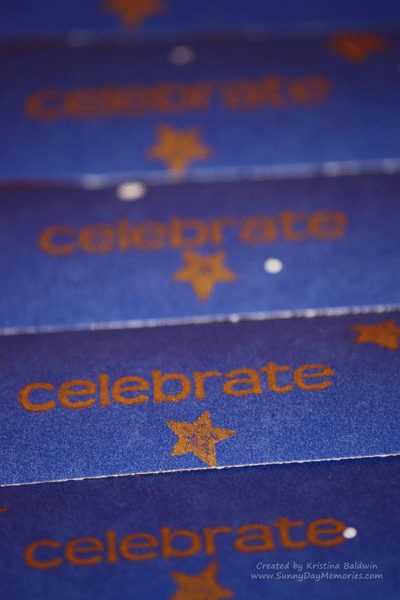 Then I affixed the strips to the bottles and added a drop of Glitz Glitter Gel to the caps and these kindergarten graduation gifts were ready to go!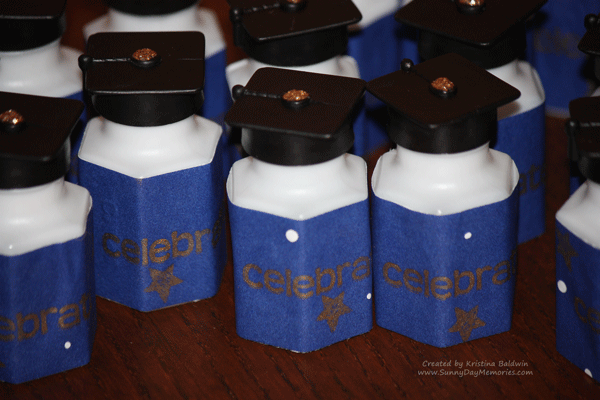 Twinkle Twinkle Shining Star Poem
You may have noticed a star badge on my daughter (when I was showing her rainbow star crown.)  I made up these for each of the Kinders to wear.  I found this cute poem that I printed on each of them…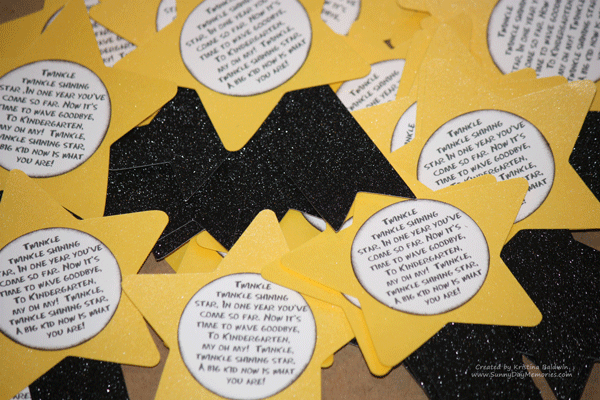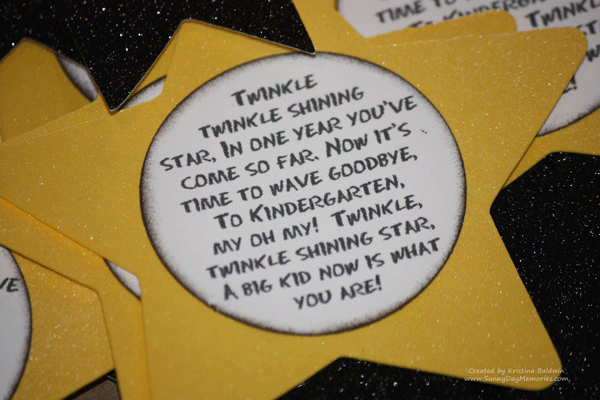 Using my Cricut Art Philosophy Collection made this SO easy.  Otherwise, I can only imagine the hours I would have spent!!
Bright Shining Photo BootH
And finally, my last project…a fun photo op project–a "bright shining star" photo frame for each of the kids to use with the leftover constellation paper as the background (waste not, want not, right!?!?)
The celebration came together great with families bringing in themed foods to pull the theme all together–cheese cut as stars, star sandwiches, star sugar cookies and Rice Krispies Treats, star fruits, etc.  A very fun and memorable celebration for sure!