Happy Halloween!  For many, it's just not Halloween until there's candy corn involved, right?  I created this fun Candy Corn Box as part of a SUPER fun Choose Your Own Adventure Challenge Close To My Heart was doing on their *NEW* blog (found HERE.)  And guess what?  I won!  Yay!  You can see all the other winners HERE.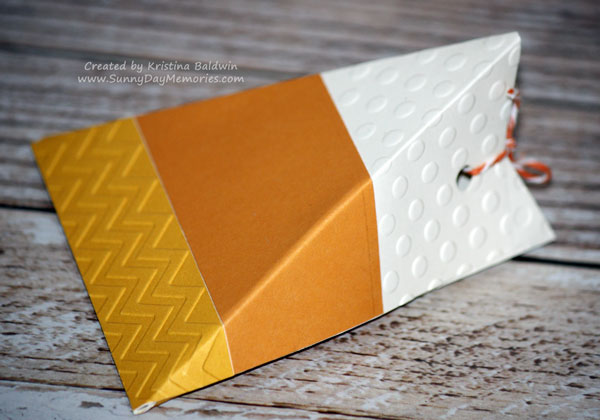 I used the following supplies to create it:
Honey Cardstock (X5668)
Goldrush Cardstock (1243)
Colonial White Cardstock (1388)
Dot Embossing Folder (Z1924)
Chevron Embossing Folder (Z1925)
Autumn Assortment Baker's Twine (retired)
Bone Folder (Z1204)
Hole punch
And if you are interested in making one yourself (or something similar) I have a step-by-step tutorial HERE.  This particular box was created using a 9″ x 4-1/2″ sheet of cardstock.  Enjoy!