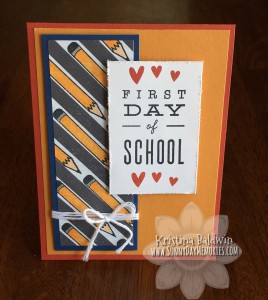 It's that time of year–time for back to school!  In fact, today was the first day of school for my kids!
Close To My Heart's August Stamp of the Month, School Year,  is the perfect stamp set for the start of school, end of school and everything in between!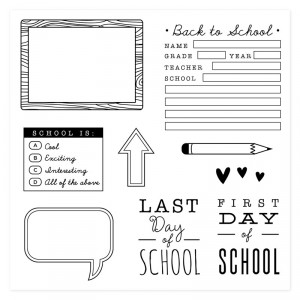 For this card, I stamped the pencil image in between the stripes of the Basics Paper Fundamentals and colored them in–that was the longest part of this card! The best touch while coloring in the pencils was using our Metallic Markers to color in the metal rim of each pencil.  It really added a nice touch to it.
The rest of the card went together super quick.  Here are the supplies I used to create the card:
School Year August Stamp of the Month (S1708)
Black Stamp Pad (Z2805)
Cranberry Stamp Pad (Z2816)
Basics Paper Fundamentals (Z3353)
Goldrush Cardstock (X5962)
Cranberry Cardstock (X5975)
Sapphire Cardstock (X5957)
White Daisy Cardstock (1385)
White Twine (Z3216)
Metallic Markers (Z1768)
ShinHan Barely Beige Marker (Z2445)
ShinHan Marigold Marker (Z2457)
3-D Foam Tape (Z1151)
Thin 3-D Foam Tape (Z2060)
To shop for these or any other CTMH products, please visit my ONLINE CTMH STORE.