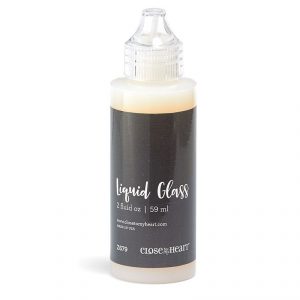 Yesterday I shared a video about one of Close To My Heart's *NEW* die sets–Crafting Shapes Thin Cuts dies.  In the video Karen shares how Close To My Heart's Liquid Glass is a great adhesive choice for some of the more intricate cuts.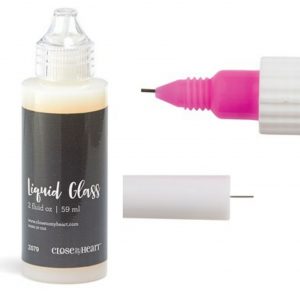 I wanted to expand on some of her tips in the video.  If you haven't watched the video, you can see it HERE.
In the *NEW* Seasonal Expressions 2 Catalog that was just released, you'll find a new product offering–a Liquid Glass Fine Tip Applicator.  This helps you do 2 things with your (amazing!) Liquid Glass.
It gives you the ability to apply Liquid Glass to extra-fine/small projects (as Karen suggested for some of our intricate die cuts.)
It helps keep the Liquid Glass bottle from clogging (with proper care of course.)
This new applicator tip can be screwed directly on top of the current nozzle of your Liquid Glass bottle, but I suggest you go a step further for best results.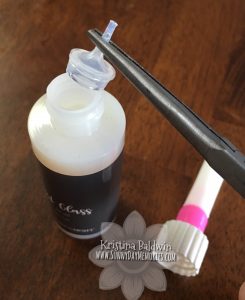 I suggest you remove the nozzle that comes on the Liquid Glass bottle (this helps prevent any clogging happening before it reaches the new nozzle/applicator tip.)  You might find it easiest to remove it using a pair of pliers or tweezers.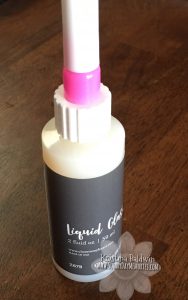 After you remove it, then screw on the *NEW* Fine Tip Applicator.  Now you're ready to start adhering your projects with a super strong adhesive that has a very fine application tip!  Just remember to always do a little "tap, tap, squeeze, squeeze" on the tabletop to remove any remaining Liquid Glass from the applicator once you're finished.  This will ensure it's ready to apply fresh adhesive to your next project and won't possibly become clogged up between projects.  If by chance it does clog up, simply remove the applicator tip and run warm water through it to help remove the clog.
To shop for the *NEW* Liquid Glass Fine Tip Applicator or other Close To My Heart products, visit my ONLINE CTMH STORE.