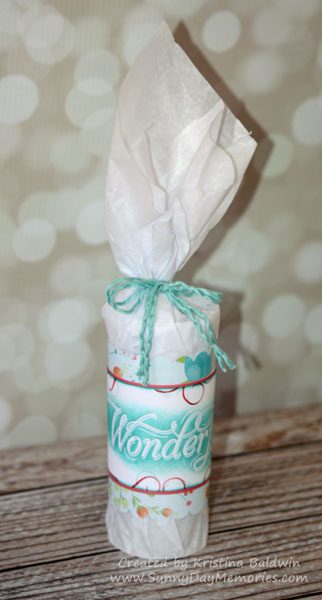 As promised earlier this week, here is an upcycled project I created using this month's Stamp of the Month—Life Is Wonderful.  It's a little treat container!  I reinforced the base using a cut out circle and some Liquid Glass.   Fill it with whatever treat you'd like and then wrap it in some tissue paper (a perfect square works nicely!)  Tie the top closed–I used some Glacier Extra Thick Twine.  I unraveled the twine to make it a little more substantial–a fun and easy technique.
Now comes the fun part–the decorating!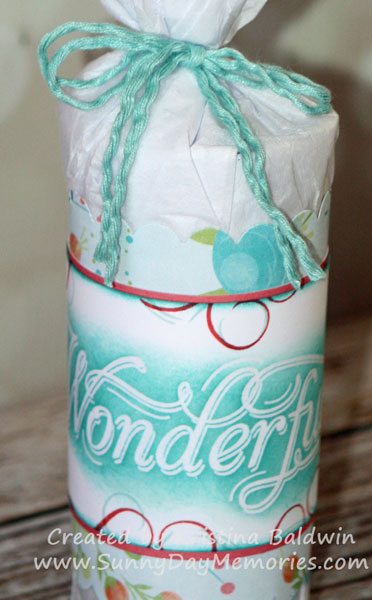 I decided to do the Emboss Resist Technique with the "Wonderful" sentiment from the set.  It has a really nice pop to it!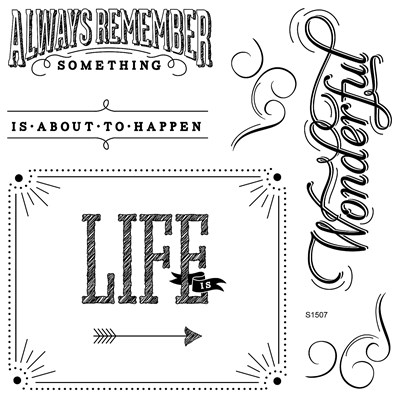 The supplies I used to create the project:
Life Is Wonderful Stamp Set (S1507)–get it FREE this month!
Lagoon Stamp Pad (Z2195)
Glacier Stamp Pad (Z2641)
Smoothie Stamp Pad (Z2196)
Versamark Stamp Pad (Z891)
Blossom Paper Pack (X7196B)
Smoothie Cardstock (X5763)
Clear Embossing Powder (Z2088)
Glacier Extra Thick Twine (Z3039)
Craft Heater (Z555)
Liquid Glass (Z679)
Sponge Dauber (Z726)
Scallop Border Punch (Z1851)
This will be one of the projects that my Stamp Club creates this month.  It's always fun to create something different than the usual card or layout.  Plus, creating projects out of toilet paper rolls can be fun and easy.  When my kids were little we made toilet paper roll turkeys.  Then 2 years ago in my daughter's class they made Christmas carolers out of toilet paper rolls (oh so adorable!!)
If you do a quick Google search, you'll find many cute and easy project ideas.  Have you created a cute project out of toilet paper rolls?  Leave us a comment and let us know!  And if you haven't yet tried an upcycling project, why not start with an easy toilet paper treat tube!  As you can see, it couldn't be simpler.