That's right, now when creating your digital scrapbook layouts with Studio J, you can add stitching with ease.  And I'm not just talking about one stitch…oh no, there are several to choose from!  How cool is that?!?  For someone who likes the look of stitching on layouts, but is too lazy to pull out the sewing machine (mmmhhh, could that be me!?!?), this is just too awesome.
Here's a layout I did to try out the *NEW* stitching.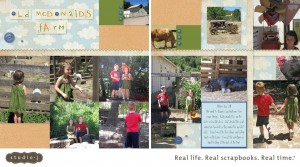 To try out stitching on Studio J layouts yourself, click HERE.