"Choose a job you love, and you will never have to work a day in your life." – Confucious
So you're considering becoming a Close To My Heart Consultant…that's AWESOME!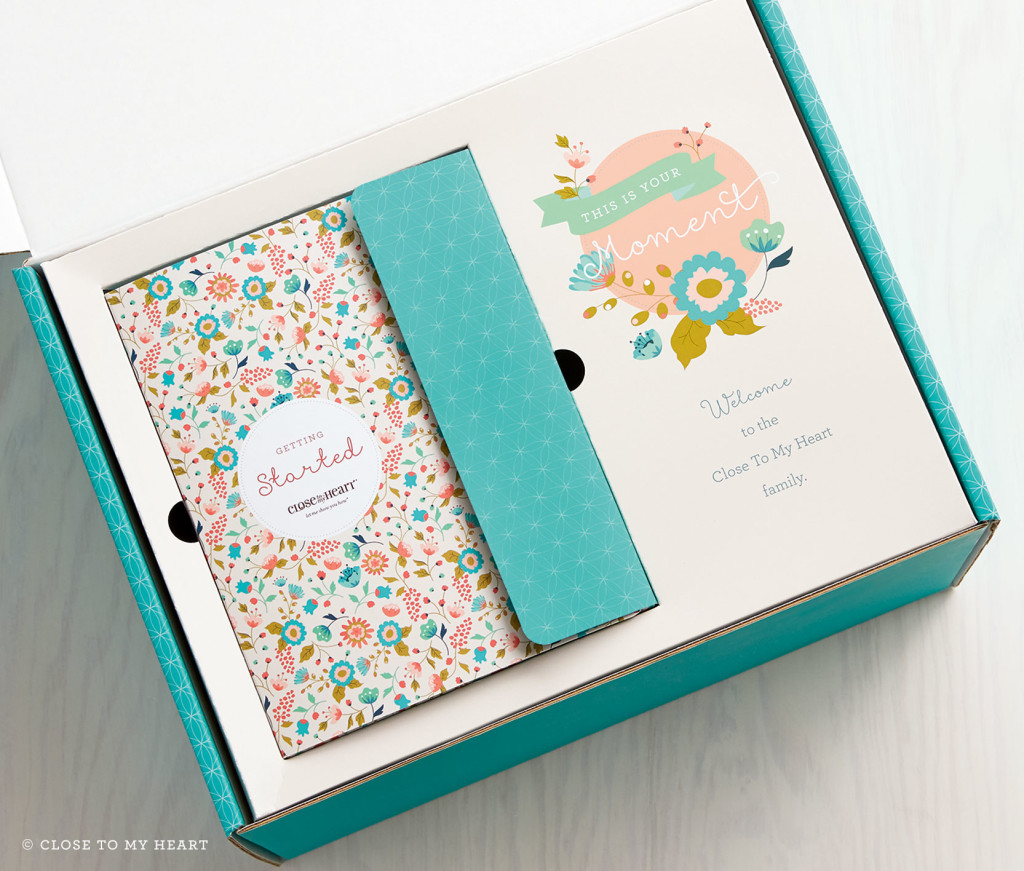 Honestly, when I signed up to be a Consultant for CTMH, I didn't do any research or really investigate what I was getting myself into.  I just knew I loved the product and wanted to get a discount!
Luckily, it all worked out really well for me–even for just sort of falling into it.  But after 13 years of being a Consultant, I've realized several things that should be considered when deciding on whether or not to become a CTMH Consultant.  So I'm going to try and provide you with basic information about becoming a Consultant (all those questions that everyone always asks!)  as well as some things you should think about or consider as you make your decision.
THE BASICS
Question:  How much does it cost to "sign up?"
Answer: A New Consultant Kit costs $75.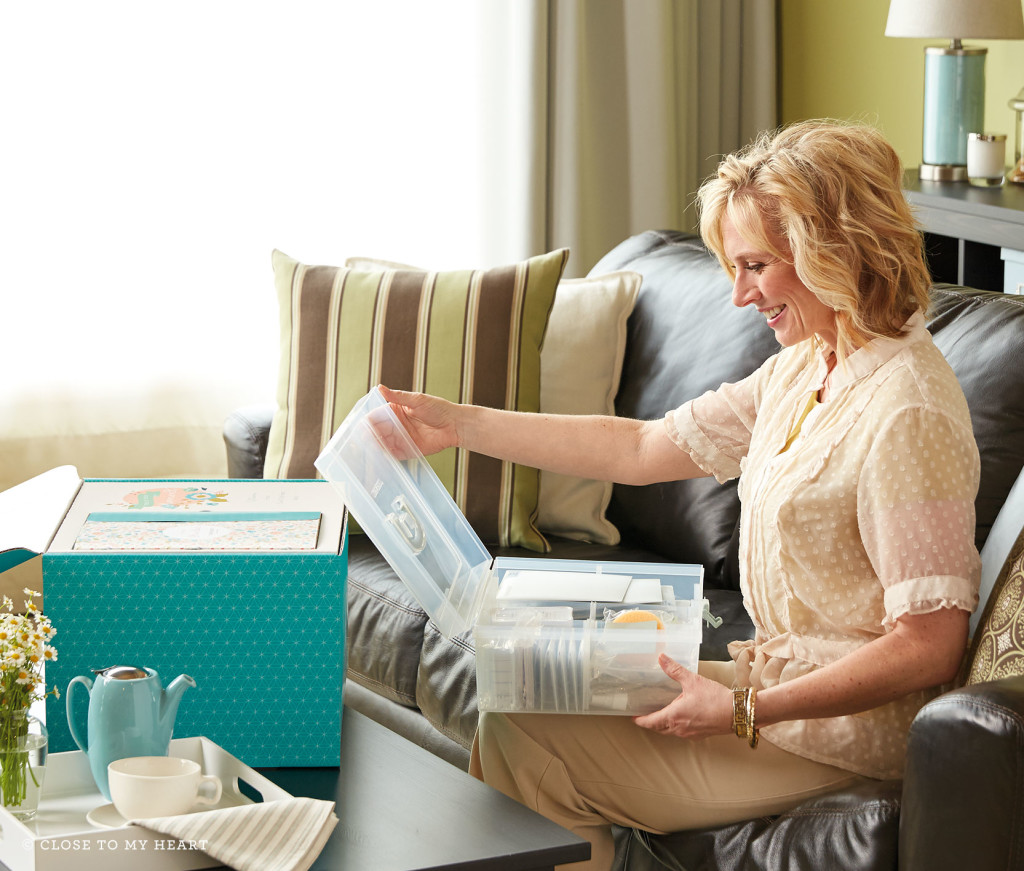 Question:  What is included in the kit?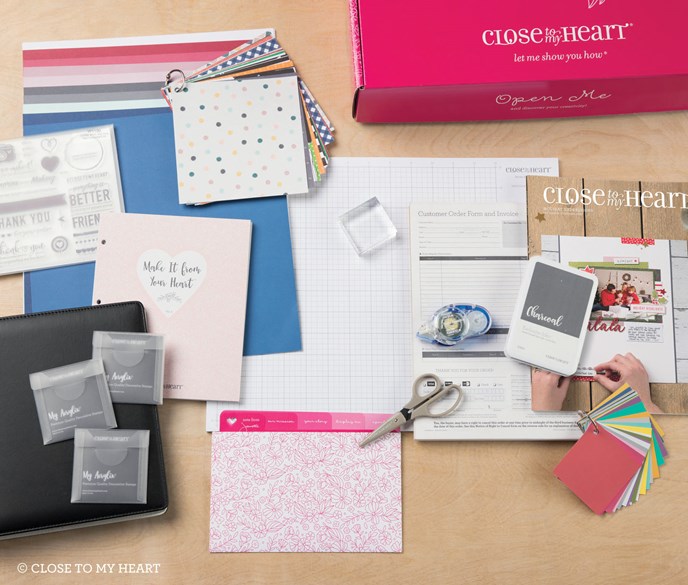 Answer: The kit comes with both business supplies and creative supplies.  It will have everything you need to get started–even creative inspiration from the CTMH Art department with project ideas.  The kit is full of product valued at over $200!  Plus, along with the kit, you will receive $50 in product credit to purchase items YOU want for your new business.  Amazing, right? Here is the breakdown of what's included:
Tombow® Permanent Adhesive (Z3326, qty. 1)
2″ × 2″ My Acrylix® Block (Y1003, qty. 1)
Charcoal Exclusive Inks™ Stamp Pad (Z2831, qty. 1)
Custom Cardstock Combo Pack (Z9973, qty. 1)
Everyday Life™ Album — Black (Z4219, qty. 1)
Non-stick Micro-tip Scissors (Z1836, qty. 1)
Make It from Your Heart™ Volume 4 (9044, qty. 1)
Customer Order Forms (W101, qty. 1 pack of 25)
Holiday Expressions Idea Book (WCS1191, qty. 5)
Cardstock Sampler (W1197, qty.1)
Holiday Expressions Paper Packets Sampler (W1196, qty. 1)
Petite Perks™ Your Kind Heart Stamp Set (W2041, qty. 3)
Desk Pad (W1140, qty. 1 pack of 50)
Let Me Show You How Stamp Set (D1785, qty. 1)
(Some items may not be shown. Contents are subject to change without notice.)
Question:  How long will it take for me to receive my kit?
Answer:  Your kit will generally ship within 1-2 business days.  It will be shipped via FedEx so depending on where you live you can generally expect to receive your kit within 2-7 days.
Question:  Is there a sales requirement?
Answer:  There is a quarterly minimum of $300 (retail) in order to remain an active Consultant.  Plus, your first quarter is waived!
Question:  What is the commission/discount rate?
Answer:  As an active Consultant you will receive an immediate 22% commission/discount + depending on your monthly sales, you'll also receive CTMH Cash (up to $75 to spend on product) and if your sales are high enough you'll also receive an additional commission of up to 13%.
Question:  Do I need to keep an inventory of product on hand?
Answer:  Not at all.
Question:  Do I pay for the Hostess Rewards?
Answer:  No, Close To My Heart pays the hostess rewards…not you!  Plus, they even pick up the shipping on those items, too!
Question:  Can I be the hostess and receive the Hostess Rewards?
Answer: Yes, you can!  That means you not only earn the Hostess Rewards but the commission on the order as well!
OTHER CONSIDERATIONS
Now I realize that this might not be the best analogy to use, but when considering about whether or not to become a Consultant for any company, you should treat it like buying a car.  You wouldn't purchase a car without test driving it first, would you?  The same is true for starting your own CTMH consultant business.  When you sign up to be a Consultant, you have what is called an "upline."  This should be your "go-to" person.  The one who answers your questions, cheers for you during accomplishments, helps you when you need it, etc.–you get the idea, right?
What most people don't think about, is how much they will rely on this person.  You should speak with the person you are considering signing up under.  This is definitely a personal decision.  Make sure you click with the person.  Make sure they understand what your goals are for becoming a CTMH Consultant and that they are okay with that–you definitely don't want someone who will be pushy and nagging you to sell, sell, sell if that is not at all your goal.  Maybe you're just in it to get your products at a discount…and that's fine.  Just make sure your potential upline is okay with it, too.
Another consideration–do you want someone who lives near you as your upline or would someone long-distance work, too?  Think about the type of person you are and what your needs might be.  If you think you'll just be doing it for the discount then either should be fine.  If you crave social gatherings, then you might want to look locally.  Although, some uplines may offer alternatives to in-person meetings that fulfill that social need.  Again, check with the person you are considering.
Okay, one last thing to consider (obviously there are many more!)…the experience. Obviously someone with a dozen years of experience has a lot of great knowledge to share.  But also consider the types of activities you might wish to do with your consultant business.  It's never a bad idea to align yourself with someone who has experience doing what you'd like to do (i.e. sell at craft shows/Expos; teach at Convention; have a strong online presence; hold a lot of home gatherings; hold mainly classes, etc.)
TESTIMONIALS
Kristina is a great leader.  She always answers my questions or helps me learn how to find the answer.  She is extremely creative, innovative, and a great teacher.  My favorite thing about Kristina is her positive attitude.  Her outlook is extremely contagious.  She helps you believe that you can be successful.  How great to feel like you have someone who is rooting for you!

                                           -Elizabeth, FL

Kristina has been a life-saver!  Although she's my second upline (my first upline moved to the east coast), she's the person I call when I need help.  Whether it's answering questions on CTMH processes ("how do I…?"), giving creative feedback ("what does this need?"), or any other questions or concerns ("what do I take to convention?") Kristina has been there to show me the ropes.  She is always patient and helpful and never fails to assure me, "that's not a stupid question"!

                                           -Laura, CA
I would LOVE the opportunity to speak more with you about the possibility of you joining CTMH and my team.  If you have additional questions on how to be a consultant, please feel free to contact me.
Are you ready to embark on an amazing new adventure? Then it's time to join my CTMH team.