Finally, after weeks of intending on posting instructions for these fun treat holders, I'm getting around to it.  Just in time for Valentine surprises! 🙂
Supplies needed:
Cardstock (CS)

Scoring tool

Stamps (if desired)

Ribbon and embellishments

Hole punch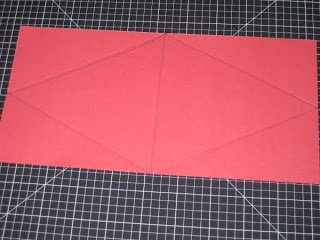 Cut CS to 5″ x 10″ (hint: triangle treat containers can be altered to fit your needs; simply make sure the length is twice the width).  Then score in half along the length.  Score again from the middle of the width to the edge of the first score line.  Repeat with 3 other sides.  (Makes more sense in the picture!  Tried to trace my score lines to make it more visible–apparently I'm not a very good tracer! LOL)
STEP 2: STAMP & EMBELLISH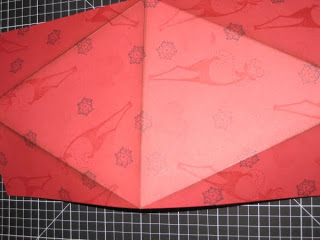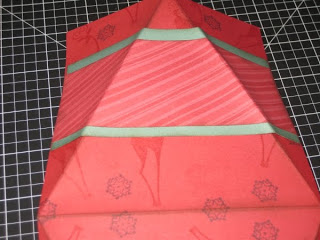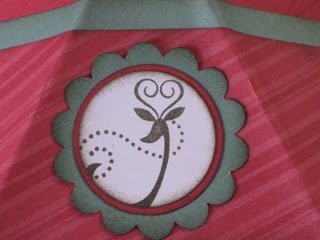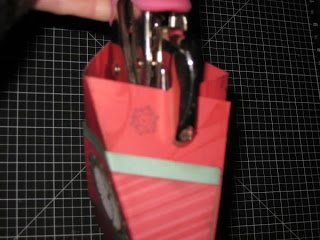 (Hint: fold your treat container so that the seam faces toward the back of your container on both sides before punching the holes)
STEP 4: FILL CONTAINER AND TIE WITH RIBBON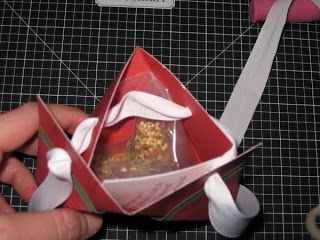 (Hint: Remember to fold so seams face the back; begin by threading ribbon through outer flap hole, then inner flap, then other side inner flap–now place treat inside–then thread through the final hole and tie shut).
My next sample was created with a 3″ x 6″ CS piece for a little variety.