If you have any children in your life, it's probably safe to say you've seen the resurgence of the popularity of superheroes.  Superheroes have made a big comeback recently (or maybe they've always maintained a popularity but recent movies and such are making them more prominent in the market!) and can be found almost everywhere.  Even Close To My Heart has recently introduced a new paper line called Superhero.
I'm sure I've mentioned this previously, but I was so excited when I saw this new collection.  My kids are absolutely in LOVE with superheroes.  In fact, I was surprised when my 5-year-old daughter said the other day she loved superheroes more than princesses (GASP!!)  I was shocked.
I've created layouts, cards, wall hangings and soon some hair accessories with this new Superhero Collection. This card was created using the *NEW* Super Powers Stamp Set…so fun!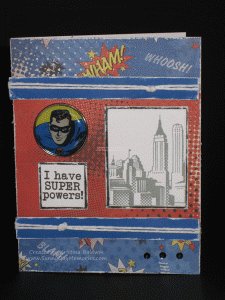 Be sure to check back soon as I'll be sharing some hair accessories I've made for my daughter using the Comic Badge Buttons.