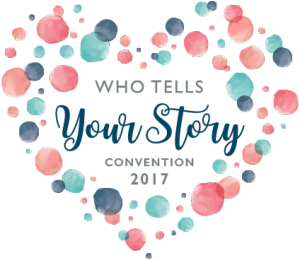 Today marks the start of CTMH's Annual Convention–well, actually, today is Leadership Day and Day 1 of Convention begins tomorrow.  But even if you're not attending Leadership (which I am & am so excited to be doing so!), you're traveling to get to Convention and the excitement is surely building.  Many CTMH Consultants will tell you that this occasion is definitely a holiday in their books. An event NOT to be missed.
And this year is even more exciting because Convention is back in Salt Lake City (it hasn't been there for 10 years!) so they will be offering a Home Office tour to all attendees.  A behind the scenes tour. How exciting!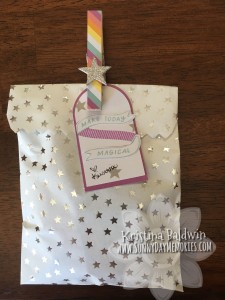 There are many standard activities that occur while at Convention aside from the regularly scheduled activities.  Card swapping, Team Meetings/Celebrations, Roomie Gifts, etc.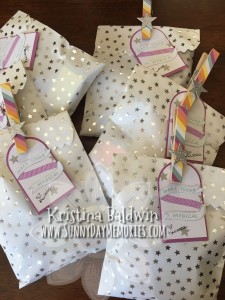 I'm excited to have several of my team members joining me at Convention this year–the most so far!  These are just part of the gifts that I will be giving to each of them.  I wanted to share these today because they were easy to put together, but look super cute!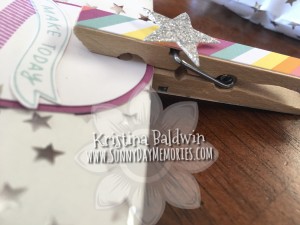 I started with some fun foil star bags I found in Target's Dollar Spot (that place gets so much of my money; there is always something cute in that section!)  The stars seemed perfect to go with CTMH's Little Dreamer Collection so I used CTMH's Retired Cricut Art Philosophy Collection to cut some tags and then stamped and cut out images with the Little Dreamer Cardmaking Stamp Set + Thin Cuts die set.
To close it up, I used scraps of the Little Dreamer Paper glued to some basic clothespins with Liquid Glass. Then I added some stars I cut with the *NEW* Stars Basic Shapes Thin Cuts dies using Silver Glitter Paper.  Crazy easy to do and completes the look nicely.  And even better is it doesn't take any hard to find items to make.  Just some cute bags (you could even make some out of paper you have at home if you liked!) and clothespins (Don't have any?  Check your local Dollar Store.)