Making a handmade card doesn't have to be hard or time-consuming.  Especially when you can utilize products that can make the process a whole lot faster and easier.  If you're not familiar with Close To My Heart's product line called Complements, let me introduce you to them today.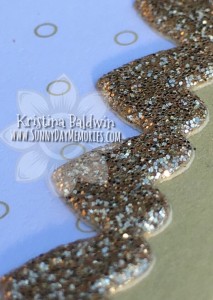 Complements are a wonderful tool for cardmaking and scrapbooking.  Each package of Complements comes with a variety of stickers, die-cuts and chipboard elements.  Some contain foil and others contain glitter.  They are designed to "complement" a certain theme or color palette.  In my picture here, it's a close-up of the gold glitter die-cuts contained in the Happy Moments Complements.  Look at how gorgeous that looks?!?  And it's so super simple to add to the project!
Here's the card in it's entirety.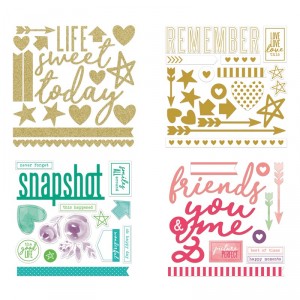 You can see I also used some of the sticker borders to create another accent to my cluster focusing in on my sentiment.  The gold foil hearts coordinate beautifully with the gold glitter die-cut I used along the top of the card.  By adding a few elements from one of the Complements packages, you can create a card that is not only quick & easy, but beautifully coordinated, too!
Currently, CTMH has 14 different Complements to choose from.  To view all of the options, please visit my ONLINE CTMH STORE.