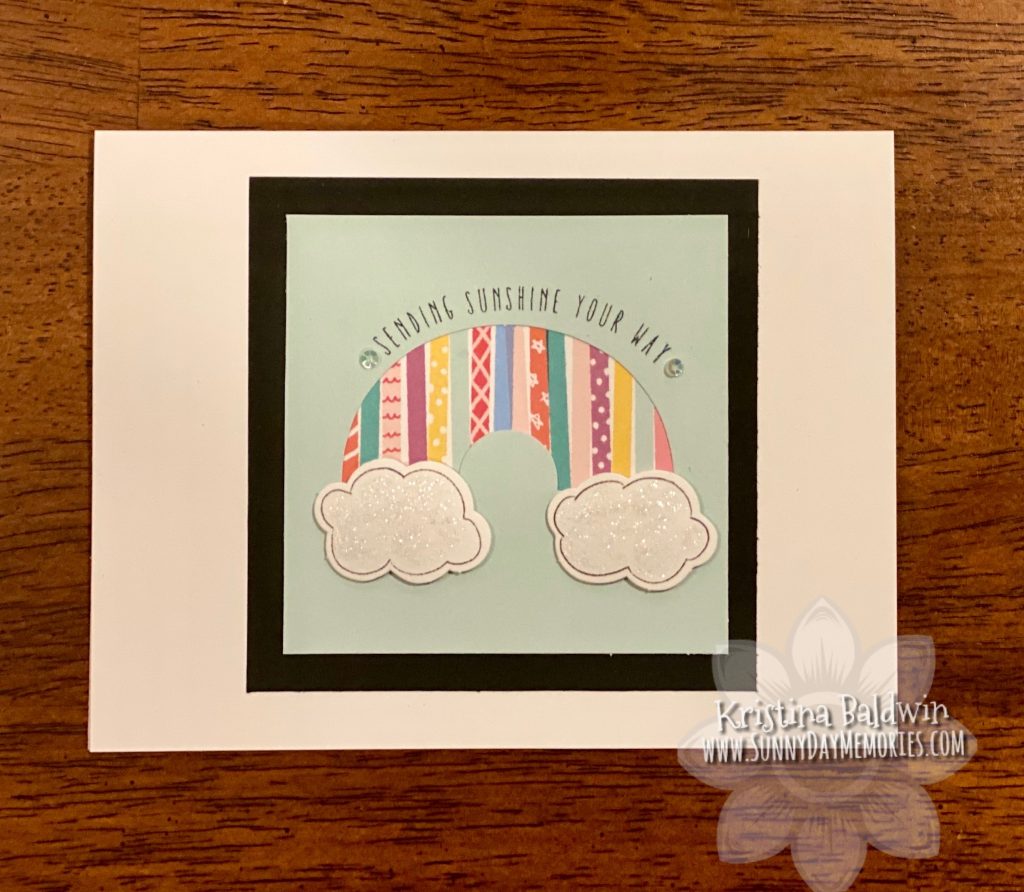 Today I went back to my past Craft with Heart Cardmaking Subscription Box to make up some quick cards.  I was short on time, but I also didn't want to lose my momentum of working on completing some of my undone projects (we all have them, right?!)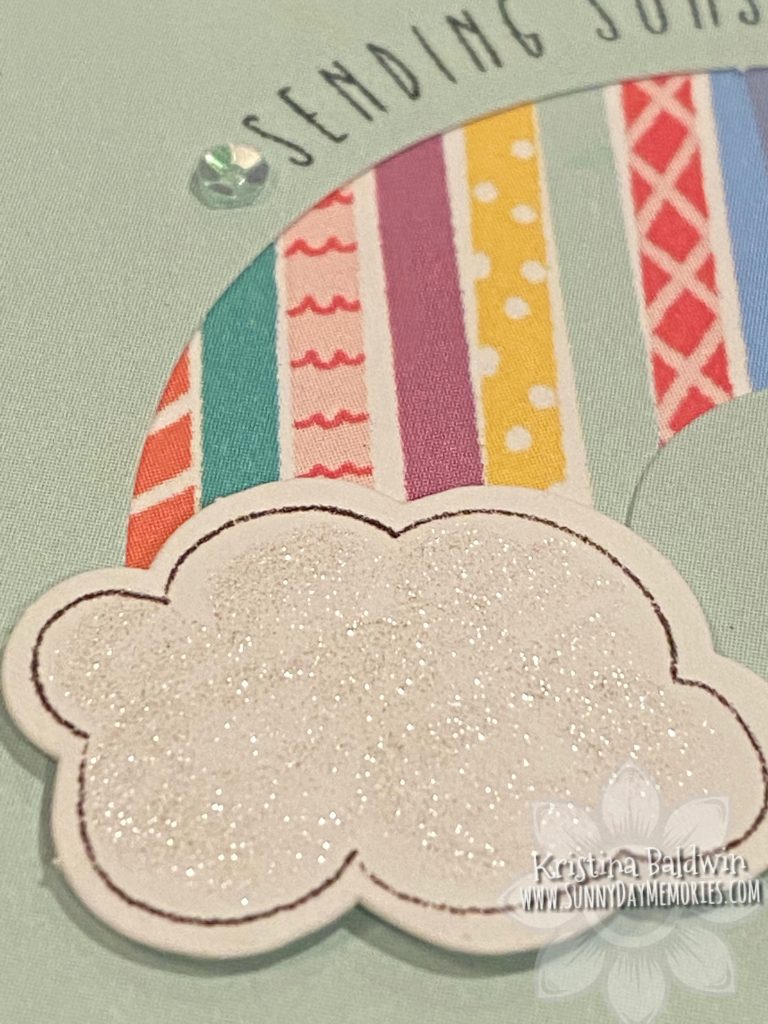 I've found that I tend to hold off on making the smaller-sized cards as I don't really give away smaller cards.  So today I decided to add some of our White Cards Value Pack to the 3″x 3″ sized cards to make them into standard A2 cards (5-1/2″ x 4-1/4″.)  It was an easy fix!  For the most part I kept to the original design, only adding a few additional items to adjust for the larger sized card.  I added a Black Cardstock mat with a 1/2″ border to the card focal point and some Clear Shimmer Brush to the clouds.  Otherwise, the sentiment, ink, papers, die-cuts, and sequins were all included in the box.
In fact, about a week ago, Close To My Heart did a blog post about how awesome these subscription boxes are (they truly are!)  If you missed it, I've included it below: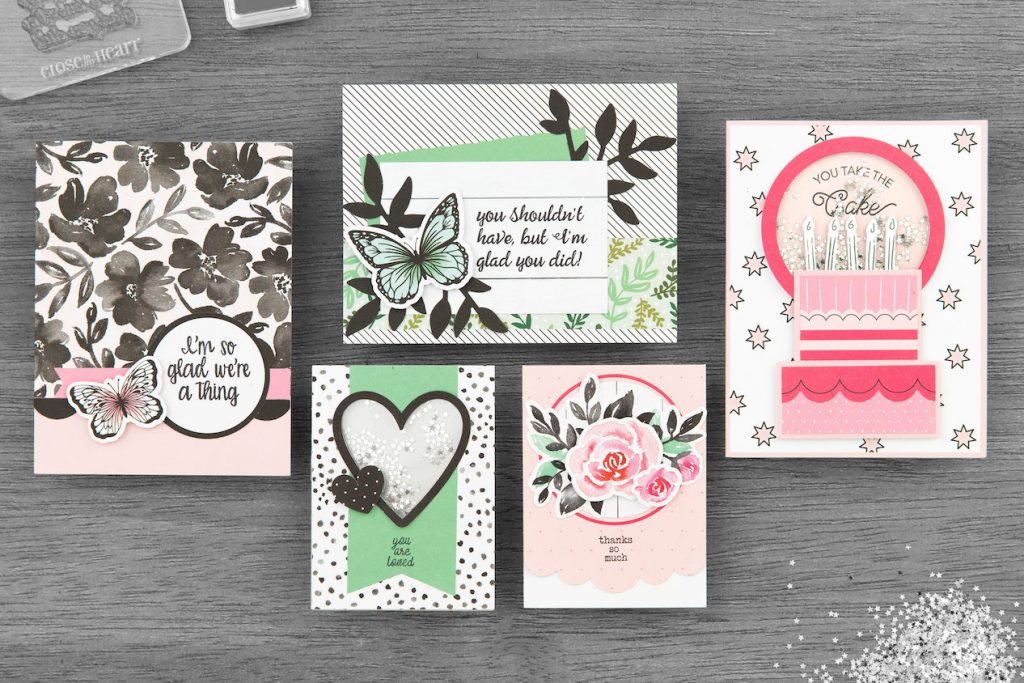 Calling all card makers (and want to be card makers)! Our new Craft with Heart™ cardmaking kit is out and ready to ship to your door! This DIY subscription box is bursting with beautiful pre-printed card bases, die-cuts, and stickers, as well as silver star-shaped confetti, shaker window foam and acetate pieces, a stamp block, a mini ink pad, and an exclusive My Acrylix® stamp set! ~Swoon!~

The January–April 2020 subscription box comes with all of the materials you need to create a set of 24 gorgeous handmade cards, 2 each of the 12 unique designs shown below. An inspirational guide included in this crafty box not only shows you how to assemble each of the cards but also offers ideas on which stamp sentiments to use with each card.

If you're a busy seasoned card maker or someone who's been hesitant to give this personalized craft a try, the Craft with Heart program is especially wonderful because anyone who puts just a teensy bit of effort can successfully create stunning artwork quickly and with ease.

Keep up with all the occasions life brings your way with one of our Craft with Heart™ subscriptions. You choose whether you'd like your subscription to renew every 4 months or, for a better value, once a year. For a closer look at all of our Craft with Heart™ options, visit our website, HERE. Remember, this cardmaking subscription box is only available through the end of April. A new box, with a new set of cards and designs, will be available beginning May 1st!
While we are all spending a little more time indoors, this seems like the perfect opportunity to try out a kit!  I highlighted our cardmaking option (because that is what I personally worked with today), but we also have an equally quick & easy (as well as beautiful!) scrapbooking option.  You can check out both of the Craft with Heart Subscription Box options on my ONLINE CTMH STORE.
Stay safe and healthy.  And please do practice social distancing whether or not it's required by the county/state you live in.  It will make a difference.