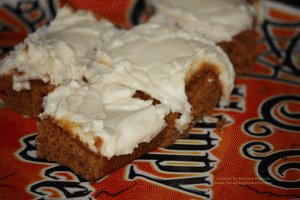 So last week was a rough one at the Baldwin household.  Cold season hit us in full-force.  The first cold of the season slowly worked it's way through our family taking a single victim at a time.  By the end of the week when it was time for me to make a dessert to bring to our Holiday Extravaganza on Saturday I was definitely NOT up to doing any of my usual from scratch desserts.  What to do??
Mmmmh, I had a box of Trader Joe's Pumpkin Bread & Muffin mix in the pantry.  But how could I make this into something a little more "desserty" than a simple bread?  Add a few additional ingredients and hope for a yummy result!  And yummy result I guess I had because I had several people ask me for the recipe.  So here it is…
Easy Pumpkin Bars
1 box Trader Joe's Pumpkin Bread & Muffin mix
eggs, oil & water per box instructions
1 box Pumpkin Spice Jell-O Pudding (3.4 oz)–to add moisture!
Mix all ingredients and place in a greased 9″x13″ pan and bake for less time than box indicates (approx. 20 minutes).  Let cool and then frost with this yummy cream cheese recipe (one of my absolute favorites–I think it's the almond extract!!!)
Yummy Cream Cheese Frosting
1/2 C. butter (soft)
1-8 oz cream cheese (soft)
3 C. powdered sugar
1 t. vanilla extract
1/4 t. almond extract
Beat ingredients together until smooth.  Frost bars and enjoy!