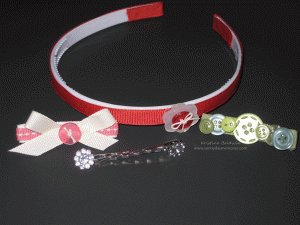 Today I spent some time creating some handmade hair accessories out of scrapbook supplies.   We have 3 little girl birthday parties coming up in the next week and a half.  I wanted to add something a little special to our store-bought gifts so I came up with this idea since all the little girls are completely into accessories.
I started out with some basic supplies from my local craft store…plastic headbands, some bobby pins and some metal clips.  I then got out my glue gun and got to work!  I added ribbon as the base to most of the creations.  I then did some layering of buttons and added a bit of waxy flax for some extra detail (I always love using Waxy Flax….so easy to manipulate and it stays in place!)
I think my favorite creation, which wasn't in my original plans–but the idea sort of came to me mid-project–the bling'd up bobby pins.  I simply (well, maybe not so simply!) removed the prongs to our Rhinestone Designer Brads  and then hot glued them to the end of bobby pins.  What a great way to get some bling!
So if you're looking for some fun and creative ideas for some little girls on your Christmas list this year, these just might be the ticket!  Have fun creating your own handmade hair accessories.