Welcome to the Close To My Heart 2009 World Card Making Day Blog Hop! Join me and 16 other talented CTMH Consultants as we share our fabulous card creations with you. If you've come from Jamia Bankhead's blog then you're hopping right along.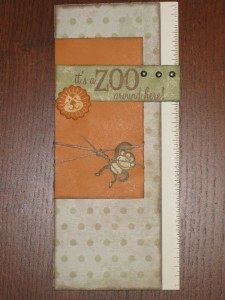 My card uses our wildly popular (no pun intended!) stamp set "It's a Zoo" along with some "oldies" but still "goodies"–Floral Tapestry and Expedition Level 2 Paper Packets. The design is from our AMAZING new "How-To" Book Wishes (love it!). I included some rub-ons along the edge from our All-Out Adventure Collection. The monkey is cut out so that it can be hanging from the hemp and while it's not obvious from this photo, I've used some 3-D squares to raise up the focal section (the Autumn Terracotta and the sentiment strip) because I just can't handle seeing the prongs of the brads show through on the inside of my card! 🙂
Finally–the lion's head–I'm so proud of how it turned out! I simply used one of our Perennials Dimensional Elements and stamped him on there in Autumn Terracotta, sponged his face with some Goldrush and then sponge daubed the outer edges with Autumn Terracotta to cover up the remaining white sections where his image didn't cover. Voila, a cute 3-D lion!
If you get lost, here's the lineup for your convenience…have fun!
Haley Dyer http://inkyscrapper.blogspot.com
Jena DeVries http://www.livelovelaughscrapbook.blogspot.com
Antoinette Herrin http://www.GodblessyourART.blogspot.com
Tresa Black www.fabulouslyartsy.blogspot.com
Debra Van Patten http://memoriesoftheheartbydeb.blogspot.com
Wendy Kessler www.myscrapbookingblog.com
Kathleen Androlewicz http://bowlofstamps.blogspot.com
Shirley Ross www.momnmescrap.blogspot.com
Teri Baxter www.themidnightartist.blogspot.com
Camy Eisentrager www.camyscorner.blogspot.com
Jessica Booth http://jessicabooth.blogspot.com
Jamia Bankhead http://papermadnessinc.blogspot.com
Kristina Baldwin https://www.sunnydaymemories.com
Debora Quigley http://livingbetterforless.blogspot.com
Laurie Flannery http://westmanscrapbooks.blogspot.com
Penny Kentosh http://cardmakinginparadise.blogspot.com
Deb Young www.scrapbookczar.blogspot.com