I got this idea a month or so ago from Pinterest (isn't that site so addicting!?!?)  Thought it made for a cute and unique bowl–entirely made out of buttons!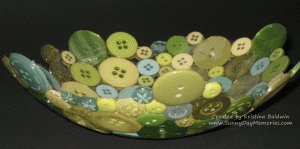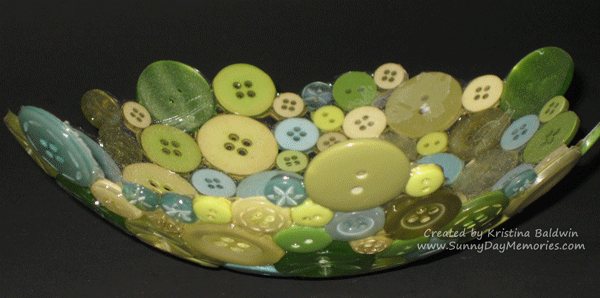 To create it, I grabbed a balloon I had on hand–one left over from my kids birthday party a couple years ago (note: try not to use a printed balloon as some of the print can come off when you remove the balloon–a lesson I learned!), some Liquid Glass and 2 bags of Green Assorted Buttons.  I also grabbed a bowl to help hold the balloon in place as I added the buttons with Liquid Glass.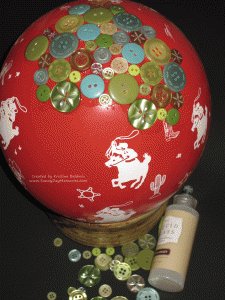 It definitely is a good idea to do this project in stages.  Adding a few buttons with Liquid Glass at a time.  Add too many buttons and you'll start getting them sliding all over the place!
Once you've added as many buttons as you'd like, you can gently peel away the balloon (or pop it then peel it).  After you've removed the balloon, apply another coat of Liquid Glass on the inside of the bowl to really strengthen it and then let it dry.  And that's it.  Now you have a completely unique button bowl that you can either keep for yourself or give away as a gift.  Plus, you can alter the color scheme to work with the various holidays!  How's that for a fabulous DIY project?!?
Don't miss these other St. Patrick's Day posts:
A St. Patrick's Day Woven Heart Basket
Leprechaun Tricks
Leprechaun Traps
St. Patrick's Day Wreath