Everyone needs a fun lucky charm for St. Patrick's Day, right?   And finding a four leaf clover is pretty tough!  So why not make your own lucky charm.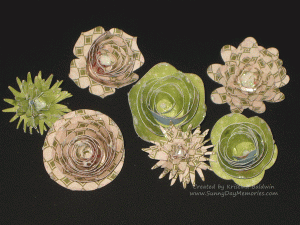 It could be a traditional shamrock charm or you could branch out and be unique…make something green and creative for your lucky charm as I did with these green flower pins made from CTMH's Cricut Art Philosophy cartridge.  I cut out various flower shapes with my cartridge, rolled them up into the correct shape and then I hot-glued them onto a pin backing.  I finished them off by adding some Stardust Glitz Glitter Gel for a little sparkle.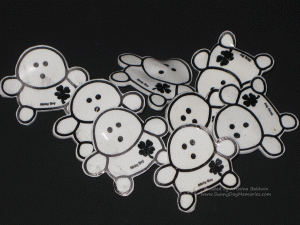 Another option is to create something a little sentimental and possibly a little hard to come by (just like the four leaf clover!) as I did here with my St. Patrick's Sticky Boy pins.  Not familiar with CTMH's Sticky Boy legend?  Watch this quick (and fun!) little video to learn a little more about Sticky Boy and CTMH's My Acrylix stamps.