Tomorrow is National Swap Ideas Day!  It's a day that encourages people to share creative or helpful ideas–perfect for us crafters, right?!?  So I thought it'd be fun to do an online card swap. We can virtually swap card projects with each other.  Sounds fun, right?  Here is my 'swap' for you: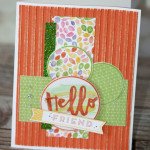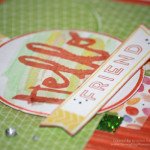 Here are the supplies used to create this card:
Hello, Life Cardmaking Stamp Set (CC1041)
For Family Stamp Set (C1633)
Sunset Stamp Pad (Z2191)
Canary Stamp Pad (Z2643)
Kaleidoscope Paper Pack (X7202B)
Sunset Cardstock (X5758)
Watercolor Paper (Z3146)
Watercolor Paints (Z3132)
Paintbrush Set (Z3188)
Clear Sparkles Assortment (Z1752)
Green Shimmer Trim (Z3087)
Stripe Embossing Folder (Z1960)
Sanding Kit (Z1294)
Edge Distresser (Z1297)
Journaling Pen (Z1979)
3-D Foam Tape (Z1151)
Thin 3-D Foam Tape (Z2060)
Now all you need to do is to 'swap' with me by putting a picture of your project in the Comments section.  Let the fun begin!