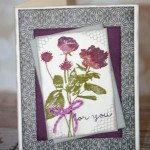 Close To My Heart's September Stamp of the Month is absolutely beautiful!  The Paper Garden Stamp Set comes with 9 unique images for making stunning cards, layouts or other home decor pieces.
As is true with every Stamp of the Month, if you spend $50, you can get this stamp set for only $5!!
Would you believe I used the Halloween Paper Packet, Nevermore to create this card?  It's true!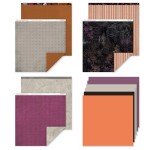 While intended for use with Halloween projects, you can do so much more with it.  The other supplies I used to create this card are:
Fern Stamp Pad (Z2650)
Eggplant Stamp Pad (Z2647)
Whisper Stamp Pad (Z2172)
Thistle Stamp Pad (Z2640)
Sponge daubers (Z726)
Thistle Extra Thick Baker's Twine (Z3040)
If you'd like to get your very own Paper Garden Stamp Set be sure to shop my ONLINE STORE before September is over and the set is gone!