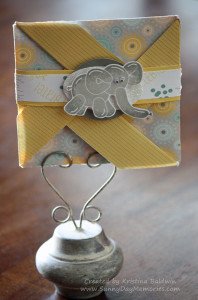 It's a new month–time for another new Stamp of the Month from Close To My Heart!  This month's Balloon Animals Stamp Set is an adorable one.  You get 13 images perfect for a fun celebration.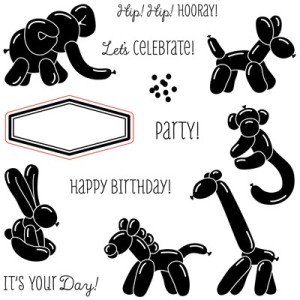 I was so excited to use this stamp set because of it's playful nature.  It seemed perfect for using googly eyes–and who doesn't love a pair of googly eyes!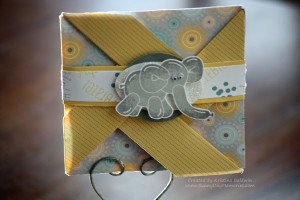 I had been wanting to try out a Pinwheel Card after I received one from a friend (they are so cool looking and after making this one I can say so easy to create, too!)
So here's a quick overview on how you can create your own Pinwheel Card.
Step 1:
Cut a piece of double-sided paper to 8″ x 8″.
Step 2:
Using your Score Board, create diagonal score lines at 3″ on each of the 4 sides. Here's a quick video to show you how to create diagonal score lines if you are uncertain…
Step 3:
There should be triangles created by the intersection of the diagonal score lines.  Cut out the small triangle shape from each of the 4 sides.
Step 4:
Flip your paper over and score each of the four sides at 1-1/8″.  Note: this line should meet up with the cutout spot from the triangles you just removed.
Step 5:
Fold back the 1-1/8″ flaps as well as fold on the other score lines.  You'll then fold up the card like you would a cardboard box–alternating the flaps.  This technique shows off 2-sided paper so well!  Simply decorate your card to your liking and you're finished!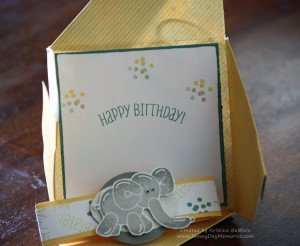 This card is one that my Stamp Club will be making this month so I decided to add in another fun (and easy!) technique–creating a puddle pad.  This technique is a great way to add variety to your stamping and also another great use for your reinkers.  It allows you to create a custom stamp pad with colors that coordinate with your project (notice the little confetti above the "Happy Birthday" sentiment.)  I also used it on the belly band that wraps around the card.
The Balloon Animals Stamp Set is only available during the month of February. You can purchase it for the retail price of $17.95 OR with a $50 purchase you can get the adorable set for only $5!  To purchase the Balloon Animals Stamp Set or any other CTMH products, please visit my ONLINE CTMH STORE.