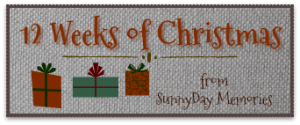 My annual 12 Weeks of Christmas is under way.  If you aren't currently on our mailing list, you've missed 5 weeks of holiday greeting card tutorials.
But never fear–there's still time to get in on the FREE holiday tutorials!  Tomorrow begins the first of DIY holiday gift tutorials.  Sign up to be on our mailing list before 1pm (pacific) and you'll receive the next 7 holiday tutorials.  You'll be inspired with step-by-step tutorials for creating handmade holiday gifts as well as holiday gift wrapping ideas.
To sign up for the mailing list just click the yellow "sign up for the newsletter" box in the upper right hand corner.  Then sit back and be inspired each week as you receive a new email containing a project idea complete with measurements, instructions and photo(s).