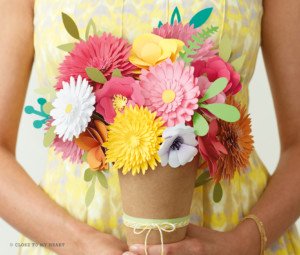 Paper flowers are awesome and definitely trendy right now.  But the best part is, they are SUPER easy to create. While this video features holiday papers, the concept and method for creating a paper flower, holds true for any time of the year.
It's a quick 3-minute video.  Give it a watch and be inspired to go create your own paper flowers!
And if you wish to create a paper flower the same size as in this video, she uses CTMH's Cricut Artistry Collection and the dimensions for her petal/leaf cutouts are:
2 3/4″
4 1/4″
5 3/4″
7″
Enjoy!