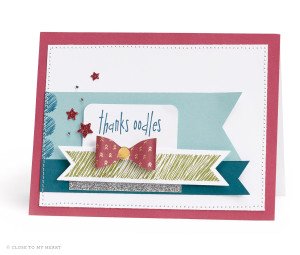 This past Saturday, we held our Annual Crazy for Cards Event.  This event is a wonderful way to get exposure to many different styles of cards, techniques and fold styles.  This year we created 9 different standard sized cards along with 9 mini cards.
We had 3 instructors who each designed 4 projects and 34 ladies registered.  It was an all day extravaganza of card making FUN!
Here are the projects we did: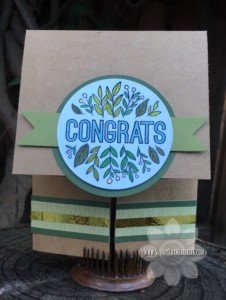 Card #1
This is a Double Dutch Fold Card which focused on embossing and coloring with alcohol markers.  I love how the embossed look not only gives more dimension, but also helps you stay in the lines easier when coloring. =) And you just can't go wrong with our Foil Tape!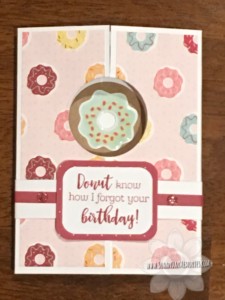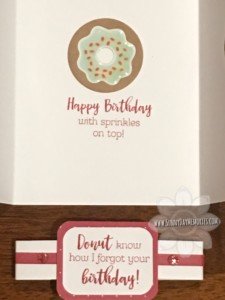 Card #2
This card focused on using our Sugar Rush Thin Cuts to not only cut out the donut and it's coordinating glaze/sprinkles, but also the window for the card base.  I love how beautiful the Sugar Rush Dots are–so much sparkle to them!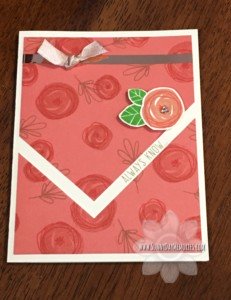 Card #3
This card was one I created by hand when I made up my prototype but knowing I'd need to cut 30+ more, decided to design a cut on my Cricut Explore–so glad I did!  You have to love the ability to do that, right?!?
We went back to the basics with random stamping to create our own background paper.  Plus, we used another shade of our Foil Tape along with our gorgeous *NEW* Blush Shimmer Ribbon.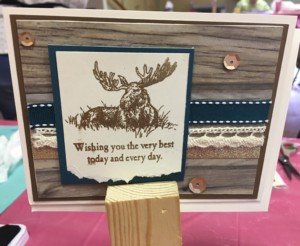 Card #4
This card showcased how stunning heat embossing can be.  Plus, the use of multiple styles of ribbon is always a great technique to add visual appeal.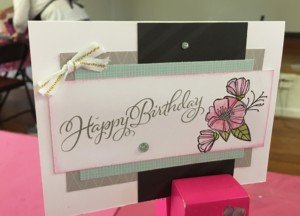 Card #5
Watercoloring–always overlooked but always so soft and beautiful.  A great technique to incorporate into your projects!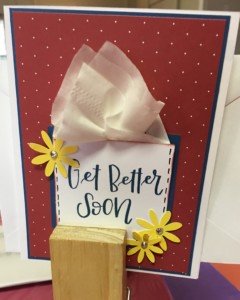 Card #6
Never underestimate the power of using every day items in your projects.  Simply adding a tissue to a cut out pocket makes for a super cute Get Well Card.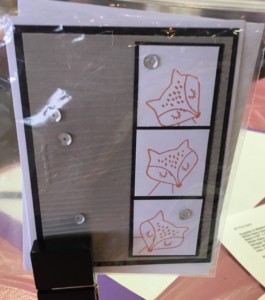 Card #7
In this card, the technique of using embossing folders as well as selective stamping (only stamping a portion of a fuller image) was explored. (*Right now many CTMH Embossing Folders are marked way down!  Like $3–awesome deals–while supplies last!)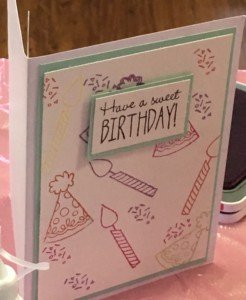 Card #8
This card also went back to basics with random stamping.  But it also has a fun surprise when you open it!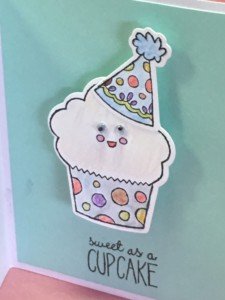 It springs to action using Adhesive Springs.  Plus, how cute do the googly eyes look?!?  This was super easy to achieve as CTMH offers a coordinating die to the Sweet Birthday Stamp Set used.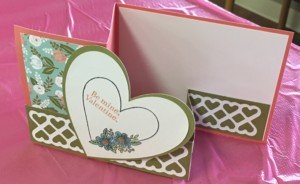 Card #9
This fun Double Z-fold Card uses our current Stamp of the Month—Adore You.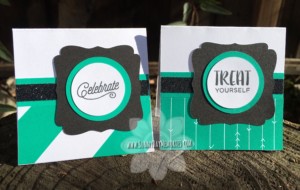 Mini Card #10
These mini cards were fun to create with cutouts from CTMH's Cricut Artbooking.  I cut a variety of patterns with matching colored cardstock circles so that people could choose the color and pattern of their liking.  Plus, you can never go wrong using our Shimmer Trim!  I love how it adds so much sparkle without any shedding mess.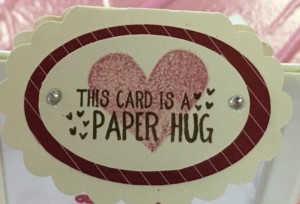 Mini Card #11
Did you know that Saturday was National Hugging Day?  What better way to celebrate than to create a paper hug card?!?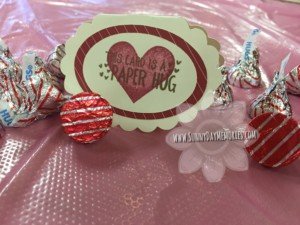 How about adding in some Hershey's Hugs candies?  I couldn't resist bringing in some for everyone to enjoy.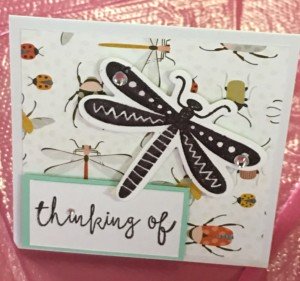 Mini Card #12
Finally, our last card featured a die cut dragonfly from our adorable Dreamin' Big Set.
We'd love to have you join us at our next big event in March.  We'll be hosting our Annual Spring Fling on Saturday, March 18th. EMAIL ME if you'd like more details.