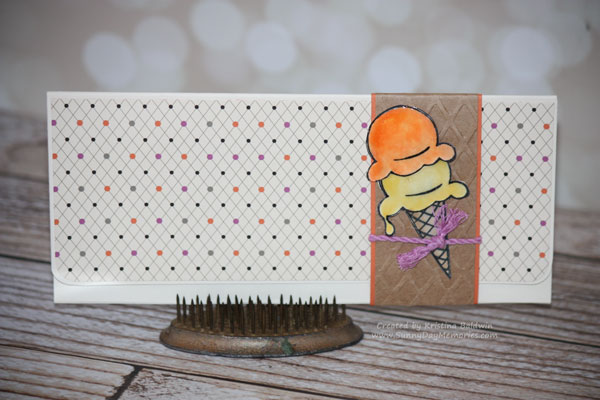 The Stamp of the Month—Ice Cream Dream–from Close To My Heart is an absolute must-have!  This set is so adorable and just perfect for summer–whether making cards, layouts or even 3-D items.
This style of card for holding money or a check was requested by one of my Stamp Club members so I designed it using this month's Stamp of the Month. How perfect would it be to give this card with some cash in it for someone special to go and grab some ice cream on a hot day?!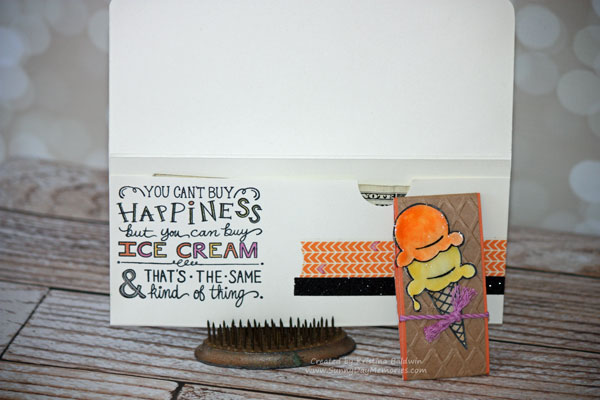 Like I said, this stamp set not only can create some pretty darling cards, but some cute layouts, too!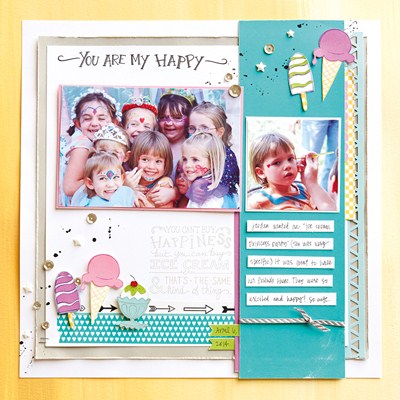 The supplies I used to create the card are:
Ice Cream Dream Stamp set (S1506)
Archival Black Stamp Pad (44751)
Sunset Stamp Pad (Z2191)
Canary Stamp Pad (Z2643)
Desert Sand Stamp Pad (Z2118)
Thistle Stamp Pad (Z2640)
Scaredy Cat Paper Pack (X7185B)
Colonial White Cardstock (1388)
Kraft Cardstock (Z1375)
Sunset Chevron Washi Tape (Z2005)
Black Shimmer Trim (Z1809)
Thistle Extra Thick Twine (Z3040)
Corner Rounder (Z1912)
1″ Circle Punch (Z1999)
Diamond Embossing Folder (Z3020)
Thin 3-D Foam Tape (Z2060)
3-D Foam Tape (Z1151)
Non-stick Micro-tip Scissors (Z1836)
Liquid Glass (Z679)