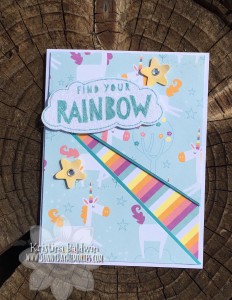 I've been wanting to try out a Recessed Panel Card for some time.  My twins' birthday was this past Friday so I took this opportunity to create 2 different styles of Recessed Panel Cards.  While the same technique, I love how unique each looks just by changing where I created the recessed panel at on the card.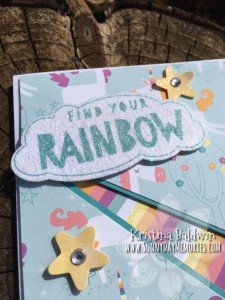 For this first one, I did the recessed panel at an angle.  Since my daughter is all about rainbows, unicorns and puffy clouds lately (it's so on trend, right!?) I couldn't resist using our now retired Little Dreamer Paper Pack as well as coordinating stamp set and die.
Plus, it just couldn't be complete without some shimmer, right?  I did a fun technique where I applied a used dryer sheet to the cloud–to give it some added texture–then added some glitter (it gets trapped by the fibers in the dryer sheet.)  It looks really awesome in person.  And the little stars got a brushing of shine and shimmer from our Clear Shimmer Brush.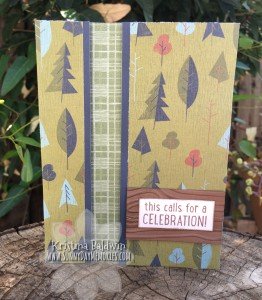 For my son's card, I also used a retired paper pack–our Back Country Paper Pack.  He's into the outdoors, camping and trees (those which he can climb are of the most interest!) so I thought this paper pack worked best. Plus, since I was using the tree patterned paper, I felt have a straight recessed panel worked best–sort of like a tree trunk.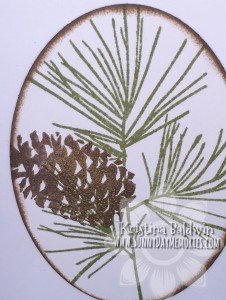 Since I had added in a fun technique to my daughter's card, I felt I should do the same for my son's.  I decided to stamp a pine tree branch and a pinecone on the inside of his card.  For the pine cone, I started by inking up the image in Chocolate ink (I'm so sad this color is now retired; love this color!) then I took a new Sponge Dauber (you don't want any color to transfer with this process) and tapped it in my Versamark ink pad and randomly tapped spots already inked on the pine cone image, then stamped as usual.  I sprinkled some Gold Embossing Powder over the image and where the Versamark ink was, it stuck.  I heat embossed it with our Craft Heater to have a beautiful look with splatters of gold on the pine cone.  Easy and stunning.
To get your own supplies to try out these techniques, visit my ONLINE CTMH STORE.