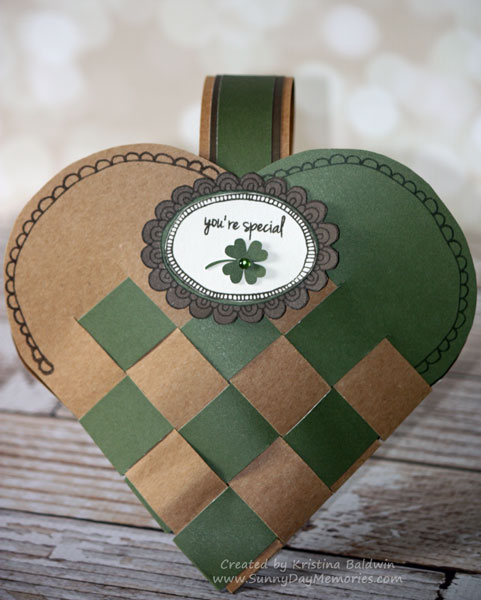 Using CTMH's Stamp of the Month—Choose Happy–I set out to create a St. Patrick's Day type project to do with my Stamp Club this month and here is the result!  There was some initial intimidation with being able to do the paper weaving, but once everyone figured it out and passed the test of having the heart open, they loved it!
Supplies used:
Choose Happy March Stamp of the Month (S1503)
Cocoa Stamp Pad (Z2114)
New England Ivy Cardstock (1282)
Kraft Cardstock (Z1375)
Cocoa Cardstock (X5642)
Colonial White Cardstock (1388)
Green & Blue Epoxy Bubbles (Z1806)
3-D Foam Tape (Z1151)
Cricut Artfully Sent (Z3017)
We did a bit of fussy cutting to create the nice layered stamped focal point.  It's attached with 3-D Foam Tape to give it some added dimension.