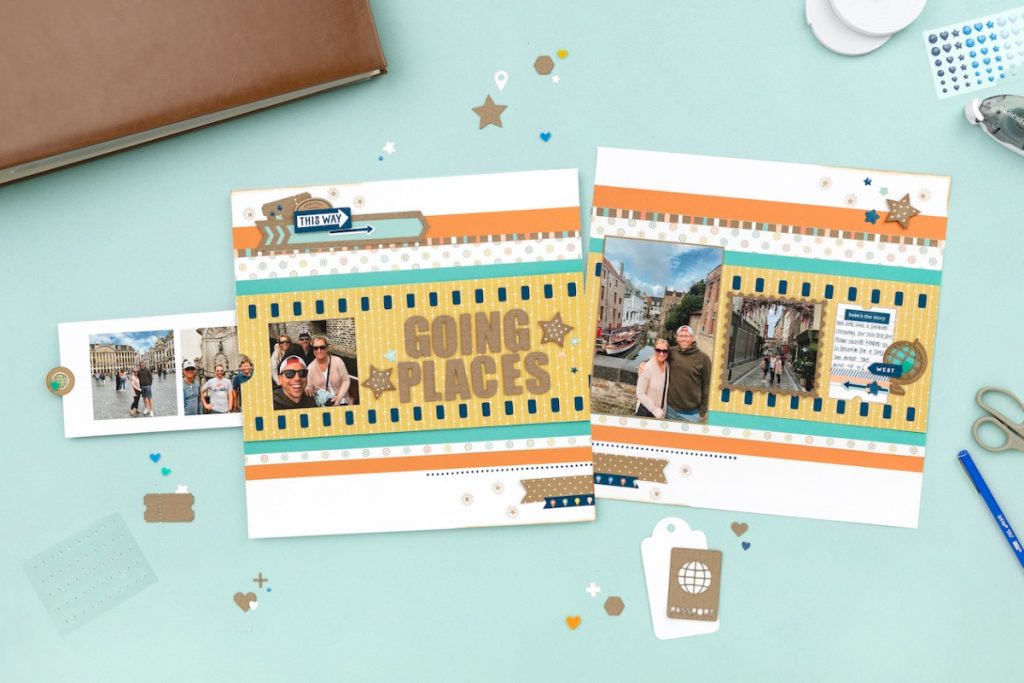 One of our most popular events is coming up! We're talking about none other than the February Album Retreat, of course! We love Album Retreat for so many reasons, but mainly because we get to spend time creating with all of you! Join us for three days of instructional fun with some of our favorite Home Office personalities and create a 12″ x 12″ album in the process!
Album Retreats are events unique to Close To My Heart where we get together to make the pages of a 12″ x 12″ album. We offer a bundle of materials you will need to create 11 beautiful 12″ x 12″ two-page layouts over the course of three days of instruction. For February's Album Retreat we will be creating a travel themed album featuring a variety of interactive elements—flaps, sliders, pockets, and MORE!
To join this February, simply purchase the February 2023 Album Retreat Bundle, which includes the papers, stickers, an exclusive stamp set, and embellishments needed to create the album. There is no separate registration fee! As we get closer to the event, we will invite everyone who has purchased the bundle to join a private Facebook group where the retreat will be hosted virtually.
The retreat will be held February 1–3, from 2:00 pm to approximately 8:30 pm (MST) each day. (That's' 2–4 February, 6:00 am–12:30 pm AEDT for our friends in Australia and New Zealand.) The last day to order your bundle is January 10, so mark your calendars if you haven't ordered yours already!
Hosting a retreat virtually has its perks. Not only do we get to have as many of you attend as would like to, because there is not limited seating, but once the feed is no longer live, Facebook saves the videos so you can return to watch them over and over again at your own convenience!
We want everyone to have a chance to join us, so we are doing something extra special today and giving away one FREE Album Retreat product bundle! That means that the lucky winner will not only get a bundle of select and exclusive products but will also have access to the private virtual retreat hosted on Facebook in February!!
For an entry into this contest, there are two requirements: First, you must be subscribed to this blog (Yes, we will check!). Second, share this post on Facebook with the hashtag #ctmhgoingplaces. That's it! You have from now until 3 pm (MST) on December 30 (7 am (AEST) on 31 December). The winner will be notified via email on January 3.
If you're reading this and have already purchased a bundle, try to win the retreat for a friend! These types of events are a great way to invite others to learn about and fall in love with the art of scrapbooking!
This Album Retreat is sure to captivate you with interactive elements on every single layout! Get a glimpse of each pull, tuck, turn, and more in this stunning travel album!
See you in February!!
Simply go to Close To My Heart's Blog and be sure to click the teal "Subscribe to list" button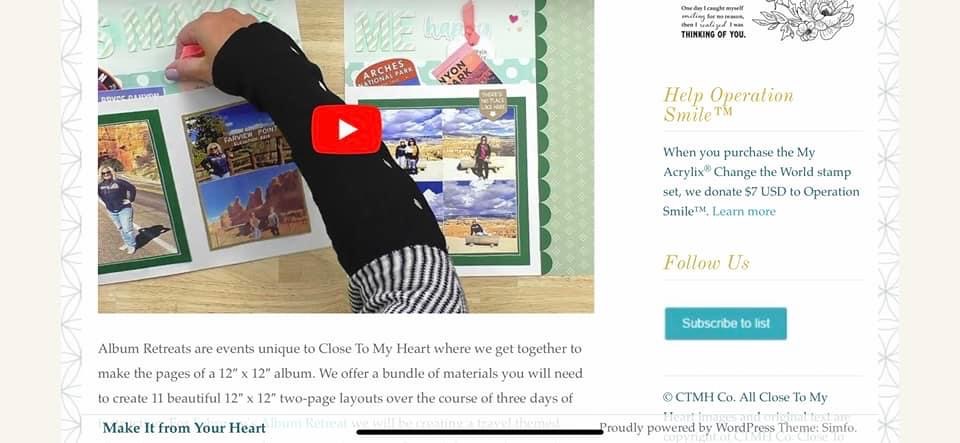 as well as share the blog post on Facebook for your chance to win a FREE CTMH Virtual Album Retreat Bundle!