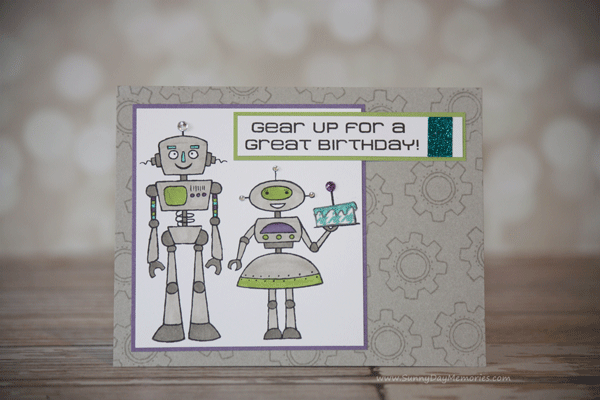 It's birthday week around here…Wednesday marks the birthday of my husband, his sister, my aunt as well as 2 friends.  Whoa, that's a lot of birthdays for 1 day, huh?!?
I really like this birthday card as it's pretty straight forward but looks great. Plus, you get the bonus of coloring it–coloring in images can be such therapy (that is if you aren't rushed for time!)  I received this card in a swap from Kandi G.  If you look closely at the birthday cake, you'll see she used Washi Tape to paper piece it–clever, right?!?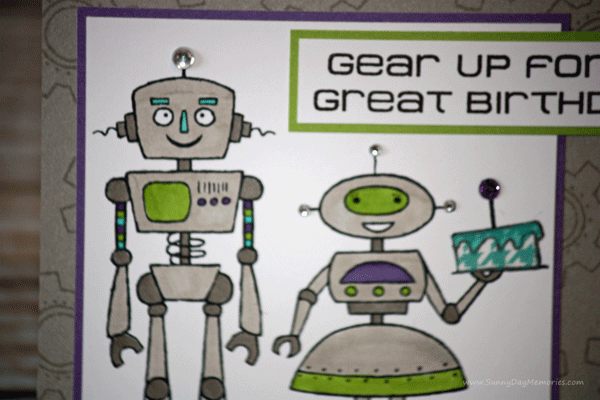 Here are the supplies used to create this card:
Robot Family Stamp Set (C1583)
Whisper Cardstock (X5929)
Gypsy Cardstock (X5757)
Pear Cardstock (X5764)
White Daisy Cardstock (1385)
Archival Black Stamp Pad (44751)
Pear, Gypsy & Lagoon Alcohol Marker Sets (retired)
Teal Shimmer Trim (Z1918)
Lagoon Houndstooth Washi Tape (retired)
Black & Grey Expoxy Bubbles
Purple Glitter Gems (Z1936)
Bitty Sparkles (Z1263)
Clear Sparkles (Z1752)
To shop for supplies, click HERE.