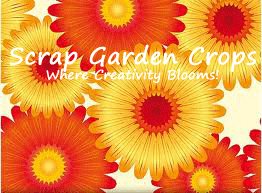 May is National Scrapbooking Month.  The perfect time to either host or attend a scrapbooking crop!  For the last several years, I've hosted a crop with some other CTMH Consultants both in November (a great time to prepare holiday cards and/or get a jump start on your holiday layouts) and one in May.  This May was no different.
While our group was smaller this time, we had an amazing time together.  I think it may have been one of my favorites to date in fact!  I found some fun glitter straw cups at my local Dollar Tree (pretty much bought them out!) and thought these would be perfect to decorate with some vinyl and give to each attendee.  I used CTMH's Cricut Artistry Collection for this fun "Scrap Happy" sentiment.  I cut it out in both a Teal and Silver Metallic Vinyl.  I really love how they turned out; so did the attendees!  It was awesome seeing the ladies use their cups all day. =)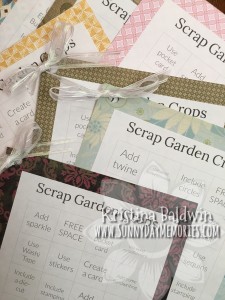 I also made up some Bingo cards for those who wanted to give themselves a focus/challenge throughout the day.  It was completely optional, but I think everyone played in some capacity.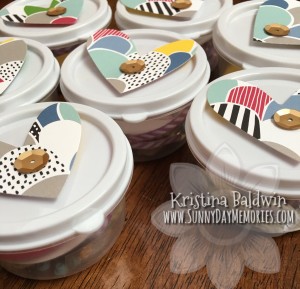 And to help everyone out, I gave each attendee a little container full of most of the items that they needed for their Bingo card.  All they needed to do was figure out how they could use the items on their projects to mark off that square!
If you missed joining us this past weekend, never fear, another Crop will be coming your way in November!
And if you can't wait for a fun event, join us for our Paper Party next month–Saturday, June 10th!   We'll be creating cards, boxes and gift card holders all with the *NEW* CTMH Papers from the recently released Seasonal Expressions 2 Catalog.
For more information about our Paper Party, see my list of CTMH Events.