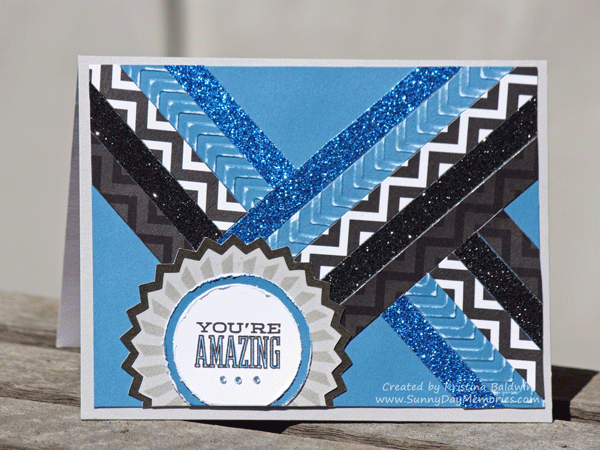 Today's card is another project that my Stamp Club created this month.  The design is perfect for using up scraps.  Plus, it showcases Shimmer Trim and our Paper Fundamentals beautifully!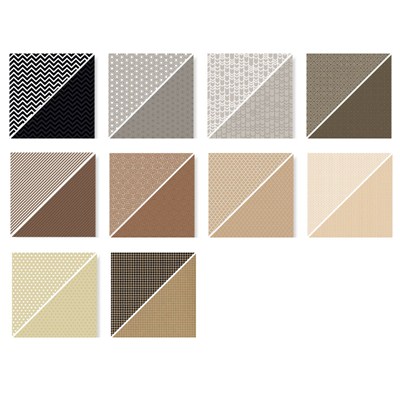 Our Paper Fundamentals are beautiful–and often overlooked–double-sided cardstock that have the same design on both sides.  One side features a glossy resist pattern while the other side is matte/traditional cardstock created with the same pattern in the selected color with white.
To keep the chevron theme going strong I embossed the Pacifica cardstock strips with our Chevron Embossing Folder and then had the ladies sand it to expose the white core to our cardstock–always a fun and easy technique!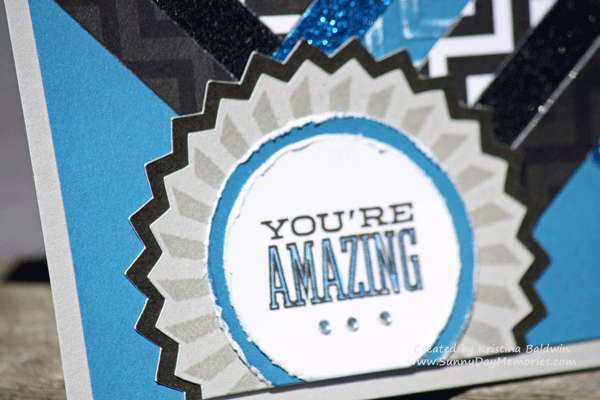 Then it was all about creating a pattern of laying down the strips and then repeating that same pattern 2 more times.  We used one of the coordinating stamp sets that comes with the Cricut Artiste Collection to stamp the focal point.  And then we filled in the 'amazing' portion with our Watercolor Pencils to keep the Pacifica color tied in with the entire card.
While we could have then used the Blending Pen or a paintbrush over the colored 'amazing' to produce a watercolored/painted appearance, we left it at just coloring it in with the pencils.  These pencils truly are very versatile! You can learn more about the blending pen in this short blending pen techniques video.
For the final touch, we used our Edge Distresser to roughen up the edges of both Cricut cut circles and then added 3 Bitty Sparkles (I hope these Bitty Sparkles never retire!  They make the perfect embellishment!)
Supplies used:
Cricut Artiste Collection (Z1790)
Whisper Cardstock (X5929)
Pacifica Cardstock (X5759)
Black Cardstock (1386)
White Daisy Cardstock (1385)
Basic Paper Fundamentals (Z1939)
Whisper Stamp Pad (Z2172)
Black Stamp Pad (Z2105)
Black Shimmer Trim (Z1809)
Blue Shimmer Trim  (Z3025)
Bitty Sparkles (Z1263)
Watercolor Pencils (3505)
Edge Distresser (Z1297)
To purchase any of these products or other CTMH products, please visit my ONLINE STORE.