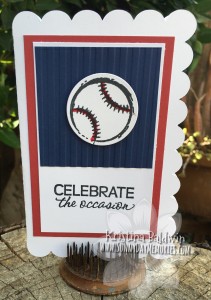 Abner Doubleday, who invented the game of baseball, was born on June 26th, 1819.
To mark the occasion, I created this card. Of course, I meant to share it yesterday when it was actually the day of his birth. But life happens as it does for all of us.  So, I guess it's a little belated!
This is a fun card design from CTMH's Cricut Artiste Collection (now retired.)  It has a little pocket/holder insert perfect for a gift card.  So you could stuff a gift card to a favorite restaurant, store or whatnot.  Or you could tuck a pair of baseball tickets inside!