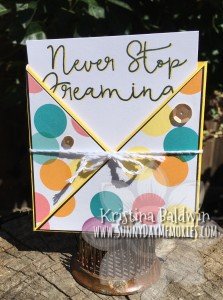 Today's card mixes a fun criss-cross pocket card with shadow stamping.  I created this card for a  card swap I was participating in.  It required that I use a technique (something simple that could be easily duplicated) as well as to use the Keep Dreaming Stamp Set.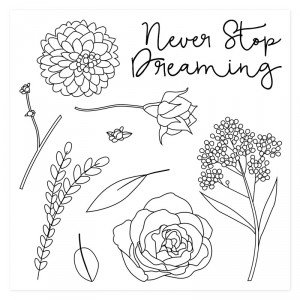 The Keep Dreaming Stamp Set is really pretty with the variety of flowers and of course the beautiful, positive sentiment.
When creating my swap card, I wanted to go a different direction than using the flowers, hence the polka dots!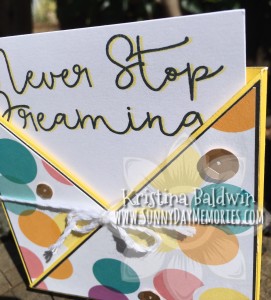 It also inspired me to incorporate shadow stamping!  Shadow stamping is super simple to do and adds a really nice visual touch to your project.  You'll stamp as usual.  Then ink up your image in a different color–it could be lighter like I did here, or if your first color is light, you could do a darker color.   Then stamp that image the same way you did the first time, only shift it over just a tiny bit so it's not entirely lined up.  This creates the illusion of a shadow to that stamped image.  Easy, right?
Here's the list of supplies I used to create this card:
Keep Dreaming Stamp Set (D1720)
Black Stamp Pad (Z2805)
Lemon Stamp Pad (Z2808)
Little Dreamer Paper Pack (X7219B)
Lemon Cardstock (X5785)
Black Cardstock (1386)
White Daisy Cardstock (1385)
Gold Sequins (Z2012)
White Twine (Z3216)
To purchase any of these items or any other CTMH product, please visit MY ONLINE CTMH STORE.