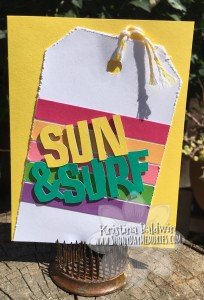 It's official!  Today is the First Day of Summer.  We've had some really HOT days here already, so to me, it already seems like summer is here.  Plus, once school ends, I think both parents and kids (and teachers!) alike, feel as though summer has officially begun.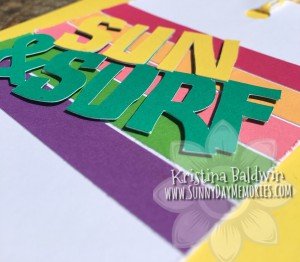 Today I wanted to share 2 fun summer cards–one I created (and have offered at my monthly Card Buffets) and one I received from Laurie L.  Both are unique and definitely say summer in their own way.
My Sun & Surf card was created using CTMH's Cricut Flower Market (their most recent one; but fingers crossed they'll be another *NEW* Cricut Collection released on August 1st!)  I used each of CTMH's newest colors from their Adventure palette (Pansy, Emerald, Willow, Lemon, Tangerine, Blossom and Raspberry) to give a nice bright pop of color.
Laurie's card uses CTMH's *NEW* No Worries Paper Collection.  It's a fun Double Z-Fold Card.  It also uses the *NEW* Summer BBQ Stamp Set and the No Worries Sequins (these might be my favorite sequins offered!)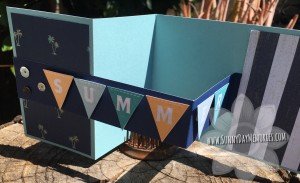 So when you open it up, you get the full pennant banner that says "summer" to show. A fun way to wish someone a wonderful summer full of happiness and surprises; just like this card!
The color combination in this card is great.  I don't know that I would have put it together.  But I will definitely be using it together very soon!  It contains: Sapphire, Lagoon, Glacier and Tangerine.
Don't forget that CTMH recently added an additional special to the month of June–get 25% off all cardstock.  With all these beautiful colors I've shown in these 2 cards, you may be inspired to stock up on some cardstock.  And the timing couldn't be better!  To purchase some CTMH cardstock or other CTMH items, please visit MY ONLINE CTMH STORE.
Here's to a great start to a wonderful summer…enjoy it!