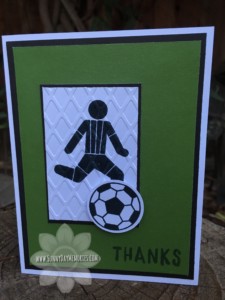 My kids are approaching the end of the Fall Soccer Season (thankfully!)  While it's always fun to watch them make new friends and learn to play as a team each season, it's always a relief when the end is in sight.  Fall is especially hard with the start of school and all the weekly activities unfolding; then you add in 2 kids worth of weekly soccer practice and 2 games each weekend and it completely wears you out!
This weekend is the final game so I made up a couple of soccer cards to thank their coaches.  I made both cards using the now retired Play Hard Soccer Stamp Set.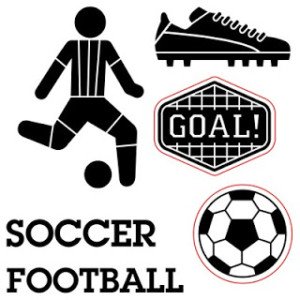 I also used the now retired Diamond Embossing Folder which is actually on clearance–while supplies last!  It's perfect for making a net background!
Plus, there are several other great Embossing Folders also on Clearance. Check out all the CTMH Clearance Items on MY ONLINE CTMH STORE and get 'em before they're gone!